Can I eat one yet? – JD, 6
If you've never made cake pops before thinking it looked just too fiddly, think again! We made them this weekend and it was a breeze.
These cake pops are made from chocolate sponge, mixed with chocolate frosting, rolled into balls and coated in candy melts with a halo of sprinkles. They are DELICIOUS!
Here's what to do…
Ingredients
75g butter or margarine, softened
100g caster sugar
2 medium free range eggs
1/2 tsp vanilla essence
100g self raising flour
1/2 tsp baking powder
1 tbsp cocoa
Cake tin
Grease proof paper
200g chocolate frosting (we used half a tub of Betty Crocker Chocolate Fudge Icing)
Approx 12 cake pop sticks
25g milk chocolate, for securing the sticks (we used chocolate buttons)
Approx 200g chocolate or candy melts (we used Renshaw Colour Melts)
Approx 50g sprinkles (we used Renshaw Multi-Coloured Sprinkles)
Something to stand your pops up in, such as a polystyrene block, or a box lid with holes punched into it
Instructions
Preheat the oven to 170C (150C fan assisted), then get all your cake ingredients ready.
Cream the butter and sugar, then beat in the eggs and vanilla essence. Fold in the flour, baking powder and cocoa, then spread evenly in the lined cake tin and bake for around 30-40 minutes until springy on top. When completely cool, cut the cake into large chunks and place in a large bowl.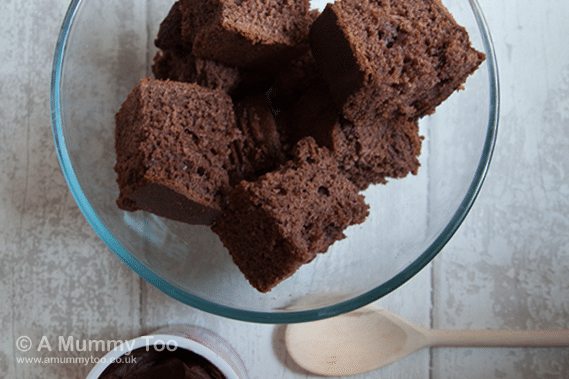 Crumble the cake with your hands gently until it resembles coarse bread crumbs, then use your hands to work in the frosting, adding spoonful by spoonful until it just starts to come together as a crumbly but mouldable mixture. Exactly how much frosting you need will mainly depend on how much sponge the kids sneakily eat during the crumbling process. In our case, they ate A LOT.
Roll your cake mixture into balls about 1.5-2 inches in diameter – try to get them as round as possible but don't squash them too much – you don't want them to be too dense.
Get your melted chocolate and dip each cake pop stick in about 5mm, then push it half way in to the cake ball.
Repeat until you've pushed all the sticks in to an equal depth, then put them all in the fridge to chill for at least an hour, preferably two or more.
Melt the chocolate / colour melts as directed and get the sprinkles ready  in a separate small bowl. Make sure everything is ready before you take the pops out of the fridge so that they stay as cold as possible.
Dip each cake in turn to cover the whole pop, then twist a few times over the tub to get rid of the drips.
Before it dries, dip the pop in the sprinkles to just cover the top
Push each cake pop stick carefully into your piece of polystyrene or box lid so that the pops stand up while they set.
Eat!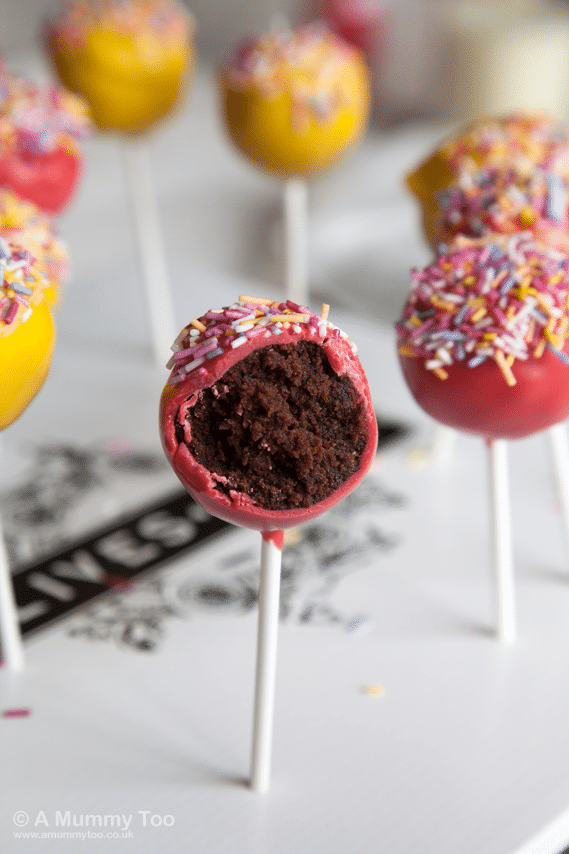 Pretty aren't they? And super-duper delicious. Let me know if you try them.
Disclosure: we were sent the melts and sprinkles for review. No payment was received for this post. All posts are 100% honest.