This takes no skill - me, describing the dip method
A few weeks ago, I popped round to Penny (A Residence)'s house to do some baking and recorded a couple of videos demonstrating how easy frosting cupcakes can be.
We filmed two main methods, a spoon and dip approach that require no piping, and simple ways to use a piping bag.
So...here it is, our frosting masterclass in two parts, complete with video demonstrations :)
Ingredients
250g slightly salted butter
750g icing sugar
few drops of vanilla extract
75ml whole milk
(I also used a few drops of of purple gel colouring, hence the colour)
Instructions
Beat the butter until fluffy
Add the icing sugar and mix gently until it combines
Add the milk, vanilla and colouring if you're using any
Beat vigorously until it goes light and fluffy
The easy spoon and dip method
Spread the sprinkles out on a plate
Put a dollop of frosting on top of the cake and smooth round with a spoon
Dip into the sprinkles
The swirly method
Fit a piping bag with a star nozzle and fill with frosting
Twist the top and hold between finger and thumb on your dominant hand
squeeze the bag with the remaining fingers on the same hand to pipe
For piled high icing, pipe a little gem in the centre, then pipe in a smooth swirling motion from the outside in
For a rose shape, start from the middle and pipe in a spiral outwards, keeping the patter as flat as possible - if you angle the bag for this one, you get a more ruffle effect on the 'petals'
See? So simple! Will you give it a try?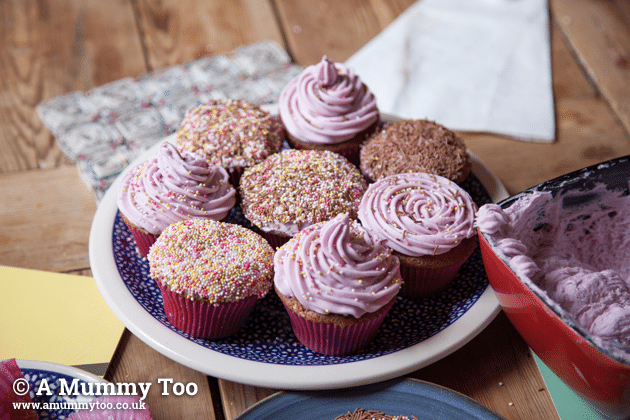 Huge thanks to Penny at A Residence for making these videos with me - it was so much fun.
Read more about our cooking adventures over on Penny's blog now