If you've ever considered trying to make your own fondant fancies, but been put off by how fiddly it looks, I promise you this recipe is the one to try – it's actually rather easy.
I'm really excited to reveal that today marks Week One of a ten-week series of Dr. Oetker #EvenBetterBaking guide. I've teamed up with Dr. Oetker and the gorgeous Stacey Solomon to bring you a host of tips, videos and step-by-step picture guides to help you become an even better baker. Exciting!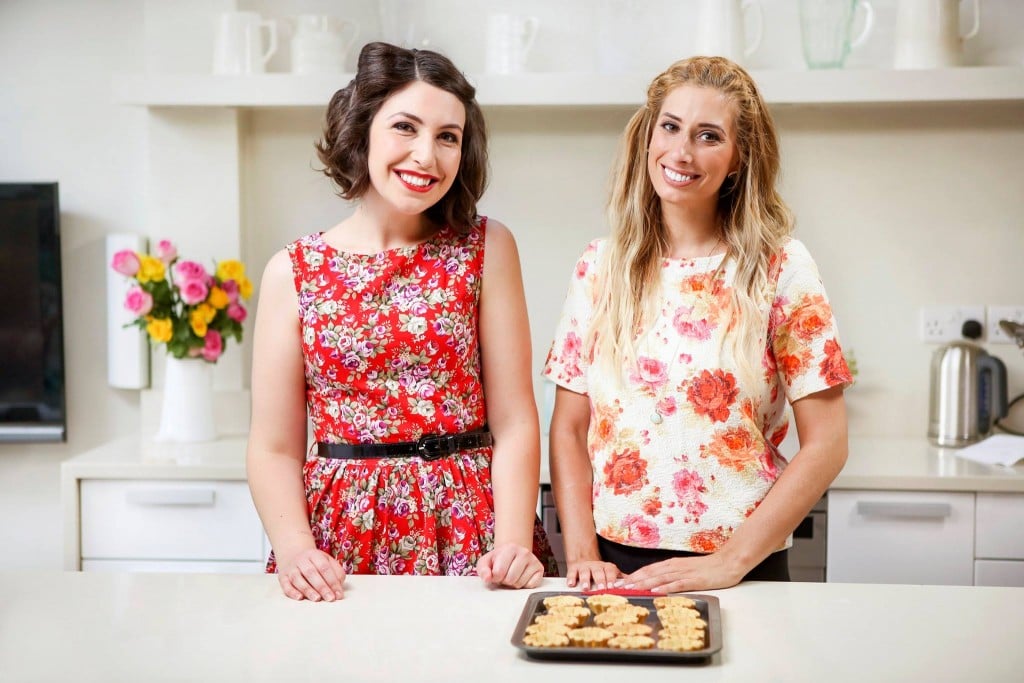 So, let's kick off with the first recipe. In this video, I'm showing Stacey how to make these pretty, easy lemon and rose fondant fancies.
And here's the recipe in printable form. On desktop, just click the little 'PRINT' icon on the right, below the recipe image.
Print
Rose and lemon fondant fancies
Yield 16
Delicious, sweet and flavourful fondant fancies, that aren't as difficult to decorate as you might think!
Ingredients
For the sponge:
115g Margarine (4 oz)
115g Caster Sugar (4 oz)
Medium Egg x 2, Beaten
115g Plain Flour (4 oz)
2.5ml Rose Flavour (1/2 tsp)
7.5g Dr. Oetker Baking Powder Sachets (1 1/2 tsp)
2.5ml Dr. Oetker Sicilian Lemon Extract (1/2 tsp)
Dr. Oetker Hot Pink Gel Food Colour
To decorate
Dr. Oetker Free Range Egg White Powder Sachet x 1 sachet
75g Caster Sugar (3 oz)
Rose Petal x 8 of pink and x8 of yellow
115g Unsalted Butter (4 oz), softened
200g Icing Sugar (7 oz), and extra for dusting
454g Dr. Oetker Ready to Roll Marzipan
600g Dr. Oetker Ready to Roll White Icing (1lb 3 1/2 oz)
Dr. Oetker Sunshine Yellow Gel Food Colour
Dr. Oetker Hot Pink Gel Food Colour
Instructions
Preheat the oven to 190°C (170°C Fan oven, 375°F, gas 5). Grease and line the bottom of 2 x 18cm (7inch) square cake tins with baking paper. In a mixing bowl, beat the margarine with the sugar until pale, and creamy - light in texture. Gradually whisk in the eggs then sift the flour and Baking Powder on top. Carefully mix the ingredients together.
Divide the mixture in half and add the Sicilian Lemon Extract to one half and the Rose Flavour to the other along with a few drops of Hot Pink Gel Food Colour and carefully mix in until well blended. Spoon into separate tins, smooth the tops and bake for 10-12 minutes until risen and firm to the touch. Turn on to a wire rack to cool.
Meanwhile, prepare the decoration. Make up the Egg White Powder as directed on the sachet; put the caster sugar on a plate. Working on one petal at a time, hold the petal at one end with a pair of tweezers and lightly dip in the egg white. Shake off the excess, and brush away any froth using a paint brush. Lay the petal on the sugar, and then cover with sugar using a teaspoon. Lift the rose petal off the sugar and place on a board lined with baking parchment. Continue to cover all the petals and leave in a warm dry place for at least an hour until dry enough to handle – you may have to leave the petals for a longer period of time if the atmosphere is damp.
Meanwhile, put the butter in a mixing bowl and beat until soft. Gradually sieve in the icing sugar, beating well after each addition, to make a smooth, spreadable icing. Set aside.
Place both cakes together and trim the crusts then sandwich together with a thin layer of the butter icing. Cut into 16 neat squares.
Lightly dust the work surface with icing sugar and knead the Marzipan until pliable. Using a tape measure, measure round the outside of one of the squares, and measure the depth. Set aside 150g (5oz) marzipan, and then half the remaining marzipan, and roll each portion out thinly to form rectangles as wide as the circumference of the cake square added together. Cut 8 strips of marzipan from each, as wide as the depth of the cake square – as a guide, roll out to approx. 28 x 14cm (9 ½ x 5 ½ inch).
Working on one strip at a time, lightly spread a marzipan strip with a little butter icing and stick round the outside of a cake square. When all the cakes are covered in this way, roll out the reserved marzipan thinly and cut out 16 squares to cover the tops of the cakes, spreading with a little butter icing to stick the marzipan down. Smooth the marzipan all over to ensure a neat finish and place the cakes on a wire rack over a tray or board.
Load the remaining butter icing into a small uncut piping bag, snip off about 1cm (1/2 inch) from the end of the bag and pipe a neat blob on top of each cake. Chill for 30 minutes to firm up.
Put half the chopped Regal-Ice in a saucepan and add 40ml (10 tsp) water. Heat very gently, stirring occasionally, until melted together. Remove from the heat, mix in a few drops of Sunshine Yellow Gel Food Colour and working quickly, spoon or ladle liquid fondant over 8 cakes to coat the top and sides – use a flat bladed knife to quickly cover any bare areas. This icing sets quickly once off the heat, but can be gently re-melted if necessary.
Melt the remaining Regal-Ice with some water in the same way and colour with Hot Pink Gel Food colour, and cover the remaining 8 cakes in the same way. Leave for about an hour to set.
To serve, carefully trim the icing drips from the bases of the cake and place on a serving plate. Lightly dab the back of each petal with a drop of water and place on top of each fondant fancy. Your pretty little cakes are now ready to serve and enjoy!
Courses Desserts and sweet treats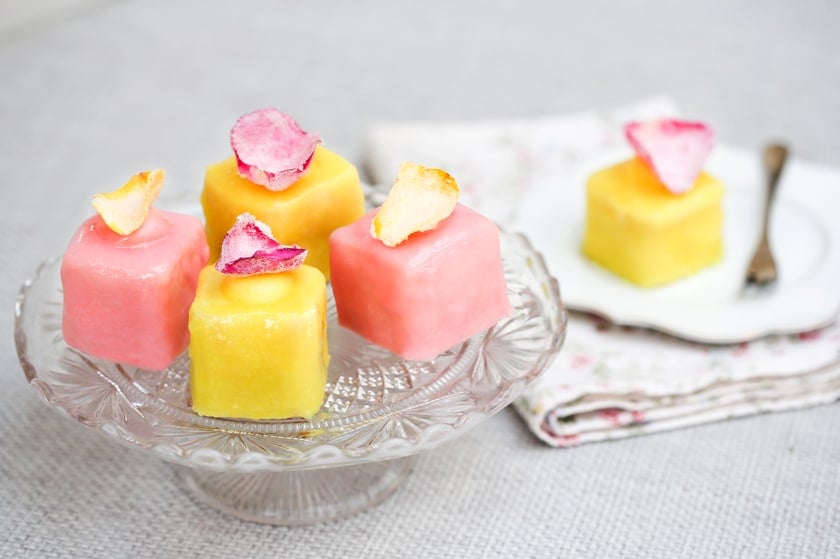 Enjoy!
Hack the Bake to Win!
Fancy winning some lovely prizes and a big scoop of baking kudos?
Just try this week's bake, but add an ingredient twist, decoration or clever tip. Once you're done, snap a pic and tweet it to@droetkerbakes using the #EvenBetterBaking hashtag.
Each week, the best hack for that recipe will be crowned Star Baker, winning themselves a lovely goodie bag. But that's not all, all 10 Star Bakers throughout the series will go on to shortlist, for a chance to win Dr. Oetker's ULTIMATE Baking hamper worth £500!
To keep up to date with all the latest Even Better Baking news, follow @droetkerbakes on Twitter, DrOetkerBaking on YouTube or like www.facebook.com/DrOetkerBaking
This is a commissioned post for Dr. Oetker. Recipe & photography courtesy of Dr. Oetker.