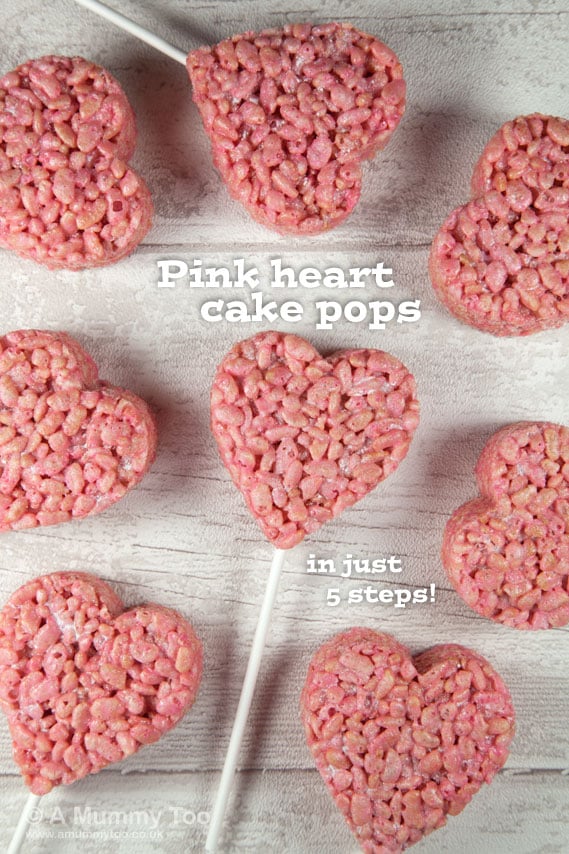 They look so SWEET! – JD, 6
Here's a cute and simple recipe that takes very little time to prepare with very effective results. It's perfect for Valentine's Day, or any day really, and it's great fun to make with the kids.
The basic mix is quite similar to Nigella Lawson's recipe for crispy squares, although I use more mallow.
Here's how to make around 8 medium sized hearts that are just the right balance of chewy and crispy.
Ingredients
A medium roasting tray
A heart cutter
Lolly sticks
50g lightly salted butter (plus a little for greasing your dish)
350g marshmallows
200g rice crispies
A few drops of red food colouring
Instructions
Melt the butter over a low heat, then stir in the marshmallows and food colouring until fully melted
Take off the heat and stir in the rice crispies until well combined
Press into the greased tray and pack down well (if our hands keep sticking, try rubbing some butter on them)
When completely cool, cut out the heart shapes – cut them as close together as you can to minimise waste
Push a lolly stick into each one and you're done!
We sprinkled ours with a teeny bit of glittery icing sugar, but it doesn't really show up so I don't think it would do any harm to leave it out. We weighed our ingredients out in a cute vintage-style 'Made With Love' pudding basin and for the heart cutter, we used the adjustable metal heart-shaped mould from Lakeland shown below. Either would make a great little gift for a baking-mad Valentine.
Disclosure: we were sent the heart mould and pudding basin for review. No payment was received. All posts are 100% honest.