Coleslaw is a deliciously crunchy and healthy side that goes well with pretty much any savoury dish. And the best thing is that if you want to keep it longer, you can freeze coleslaw!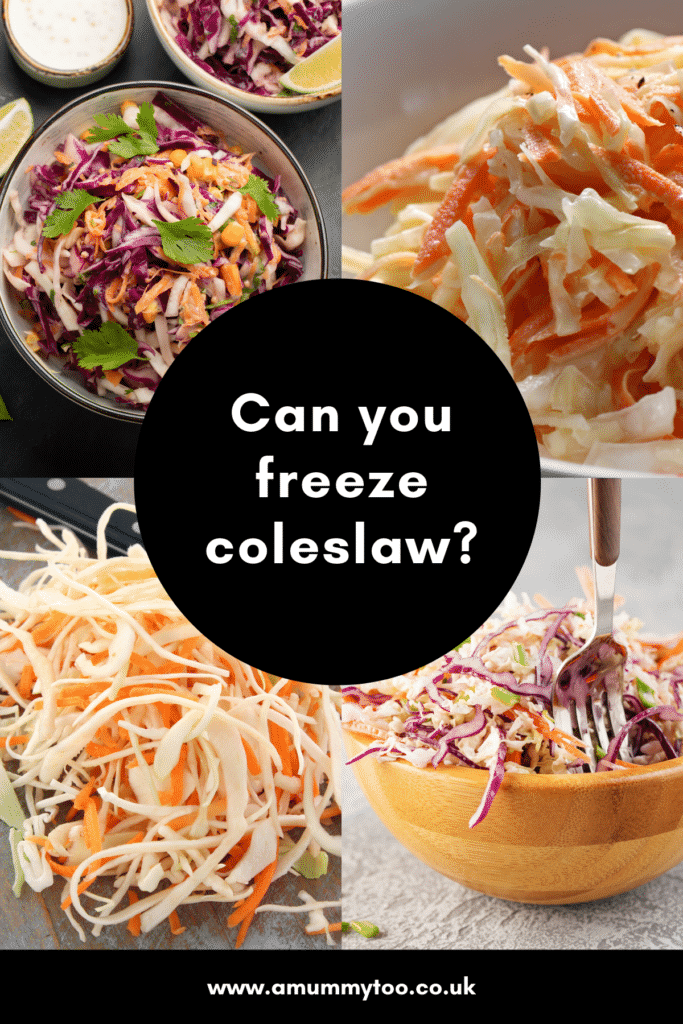 However, you can only freeze coleslaw that doesn't have a mayonnaise dressing. If you use a vinegar and oil-based dressing or are happy to add the dressing after the coleslaw veggies have thawed, then freezing is a great way to store excess coleslaw!
Freezing is a good option if you have more than a 2 day's supply or need to have some ready for a party or gathering.
The texture of frozen coleslaw won't be quite as crisp, but if you follow the guide below you should still get the best out of your frozen coleslaw.
How do you freeze coleslaw?
The best way to freeze fresh coleslaw is to pop individual portions into sandwich bags, squeeze out any excess air and freeze it for up to 1 month.
If you want to freeze leftover coleslaw from a party, I would only recommend doing this if it's not been out of the fridge for long, no more than an hour, and if it's been sat in the sun for any length of time, it's not a good idea to freeze!
If you're freezing a fresh batch of coleslaw, it's a good idea to skip the dressing and freeze only the shredded vegetables.
Read on for a detailed guide on how to prepare your fresh or leftover coleslaw for the freezer.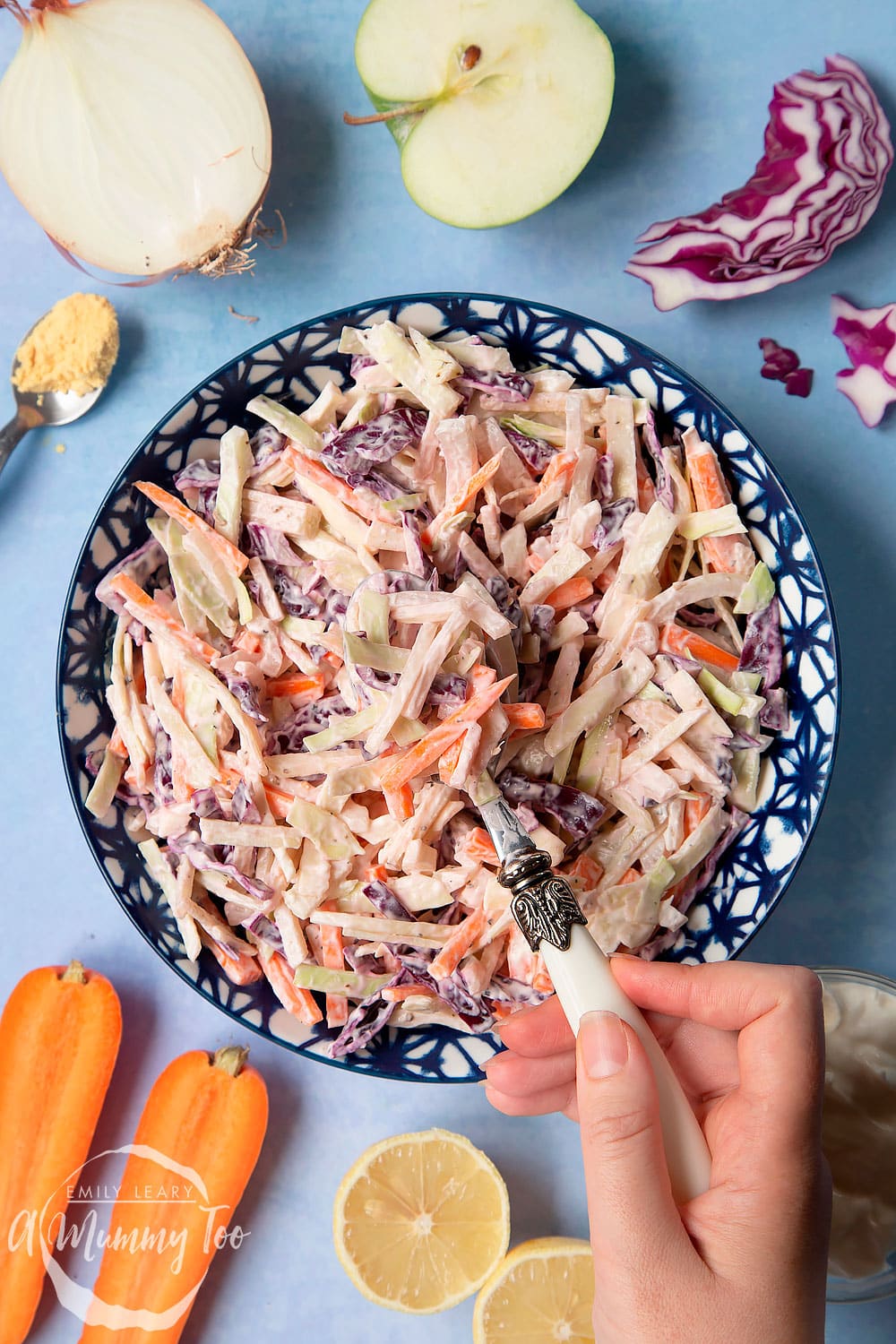 How should I thaw frozen coleslaw?
It's essential to thaw coleslaw in the fridge so that it doesn't begin to spoil or encourage bacteria.
The best way to defrost coleslaw is to transfer the bag from the freezer to the fridge and leave it overnight.
Don't be tempted to defrost it quicker out on the side. It needs to be kept at a constant low temperature to reduce the risk of bacterial growth.
Once thawed, the coleslaw may have become a little watery, so you can drain off any excess liquid and give it a good stir.
Once it's thawed and mixed, you can add a mayonnaise dressing or any fresh herbs or apples you might want to add.
You should consume your coleslaw within 24 hours and never refreeze defrosted coleslaw!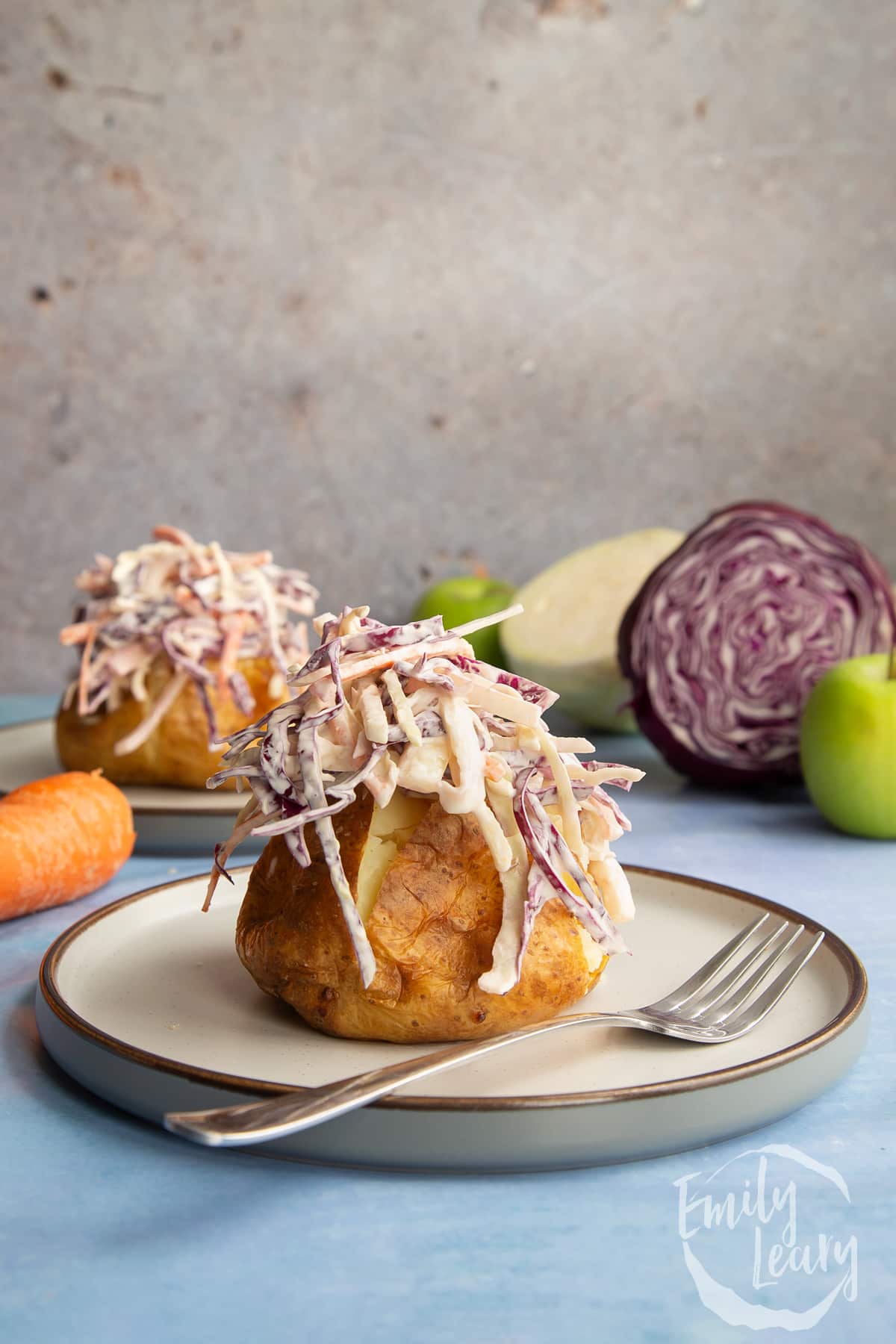 How to prepare coleslaw for the freezer
The best way to freeze coleslaw is to start with a coleslaw that is fresh and in good condition. So double-check that all your ingredients are fresh and any veggies have been washed before you make your coleslaw.
If you're freezing leftovers, it's also essential to ensure your coleslaw is fresh and free from any crumbs, potato chips or other contaminants before you freeze it.
Only freeze coleslaw with vinegar and oil-based dressing. If you want to freeze coleslaw and still have a mayonnaise dressing, freeze the veggies and add the dressing after it's thawed. This is because mayonnaise and other creamy dressing used for coleslaw tend to separate and are not pleasant when thawed.
If you're making a batch of homemade coleslaw and want to freeze it, follow this method:
I find it best to shred the cabbage, carrots, and onions, then only add the dry herbs and spices. I wouldn't recommend freezing fresh herbs in this way as they will wilt. Apple tends to go brown when you freeze it. So if you usually add apple to your coleslaw, you might want to leave it out of the freezer mix too.
Once you have prepared your coleslaw mix, you can add a non-mayonnaise-based dressing. Or, even better, you can freeze it with no dressing and add a dressing once it thaws. This reduces the chance of any curdled texture or split dairy.
As with all things going into the freezer, consider the portion sizes. You may want to divide your coleslaw into smaller batches so you can get out only what you need. I find that one ladle scoop per person into a sandwich bag is a good portion.
What is the best container to freeze coleslaw? Can you freeze coleslaw in a bag?
You can freeze your coleslaw in a freezer-safe bag or container like a lunchbox. I like to use bags as it's easier to squeeze the air out, which is an important step.
When ready, scoop your shredded veg or prepared coleslaw into pre-labelled freezer bags. Writing on the bag before you fill them is a good idea! Then, add the date and what's inside.
How long can you freeze coleslaw?
You can keep coleslaw in the freezer for up to 1 month. Any longer than that, and the texture will change too much.
I find it helpful to add a use-by date to your bags before putting them in the freezer. Dates help me keep track of what needs eating up without having to do too much mental arithmetic!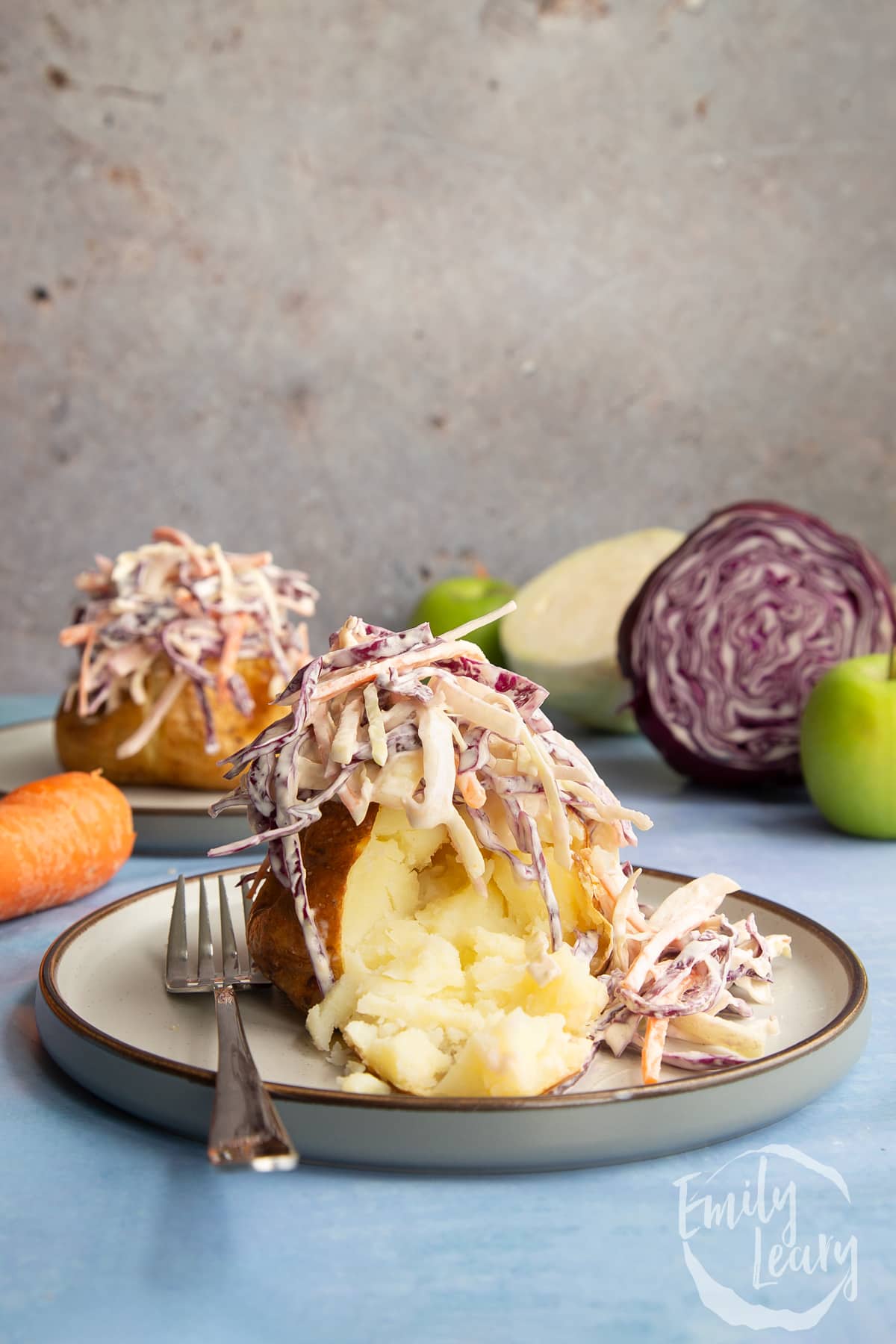 Why did my frozen coleslaw dry out?
When you freeze food with high water content, water is drawn into the air around it, sort of like frozen evaporation. This is called freezer burn.
Freezer burn causes food to dry out and a frosty layer to develop over the food. You can avoid freezer burn by storing food in sealed containers with as little air as possible.
This is why I find freezer bags to be the best container for frozen coleslaw, as you can squeeze out any excess air and wrap it tightly. If you only have a lunchbox, you could press a sheet of baking paper over the coleslaw to reduce the amount of exposure.
Is it ok to freeze store-bought coleslaw and homemade coleslaw?
Trying to freeze store-bought coleslaw probably isn't a good idea as most of them have a mayonnaise-based dressing.
So it's best to freeze homemade slaw or coleslaw with no dressing or, at a push, yoghurt-based dressing. Yoghurt (especially low-fat) can still split, just not as much as mayonnaise.
Can you freeze coleslaw with mayo dressing?
No, you can't freeze coleslaw with a mayo dressing. Mayonaise curdles and separates when it freezes, so it's not pleasant to eat.
Frozen mayonnaise splits because it's an emulsion of fat (oil), protein (egg yolk) and water. When frozen mayonnaise thaws, the liquid will always thaw faster than the other ingredients and separate the mayo into a lumpy mess.
However, if you've already made coleslaw with mayonnaise, you can freeze it. It will still be safe to eat, it just won't look or taste as good once thawed.
Can you freeze coleslaw with yoghurt dressing?
Yes, you can freeze coleslaw with yoghurt dressing.
Yoghurt is an excellent alternative to mayonnaise in terms of texture and taste. While dairy can sometimes split when frozen, yoghurt won't split as much as mayonnaise.
Yoghurt is also lower in fat and cholesterol than mayonnaise, so if you're looking for a healthier option, this could be the way to go.
What can you cook with frozen coleslaw?
Coleslaw is the perfect side for so many main meals. So here are some tasty ideas for using your thawed coleslaw:
Add to tacos or these mild fajitas for the kids to build themselves.
Use it as a crunchy filling for jacket potatoes.
It's perfect for taking the kick out of spicy food like jerk chicken.
It goes well with these healthy fish fingers.
For more tips on freezing food to reduce waste, check out my other articles on how to freeze food, including;