A caterpillar cake is a classic birthday treat: a chocolate Swiss roll filled with chocolate buttercream, covered with chocolate ganache, decorated with a cute chocolate features and presented to an excited boy or girl on their special day, ideally with candles.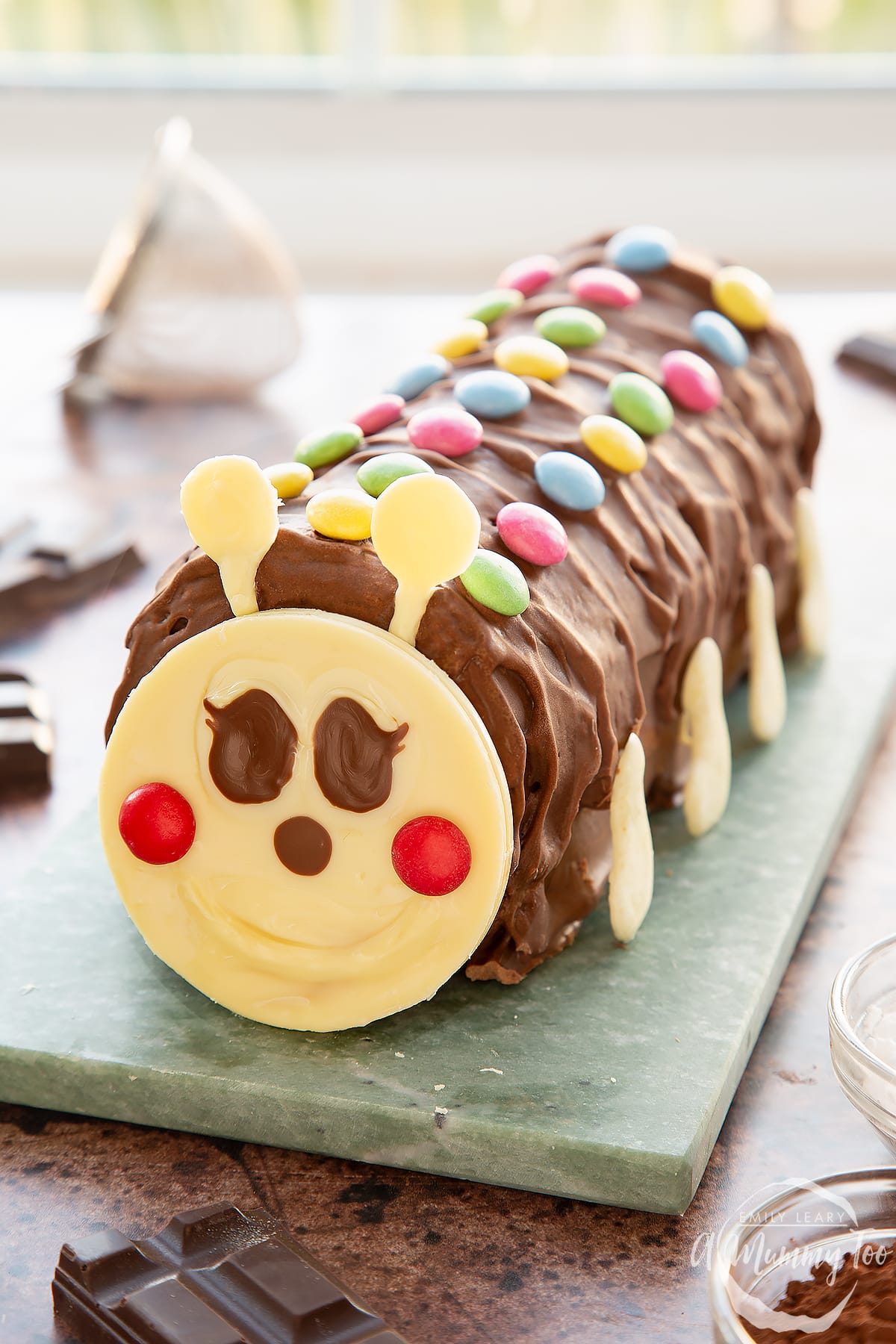 It's a brilliant celebration recipe that has stood the test of time.
Perhaps the humble caterpillar cake would've been consigned to the corridors of 1980s nostalgia were it not for Marks and Spencers, who introduced Colin the Caterpillar to their shelves in 1990.
Eventually, all the other supermarkets followed with Cuthbert (Aldi), Curly (Tesco), Clyde (Asda), Cecil (Waitrose) and Wiggles (Sainsbury's) and today, a caterpillar cake is a common feature of 21st century family celebrations.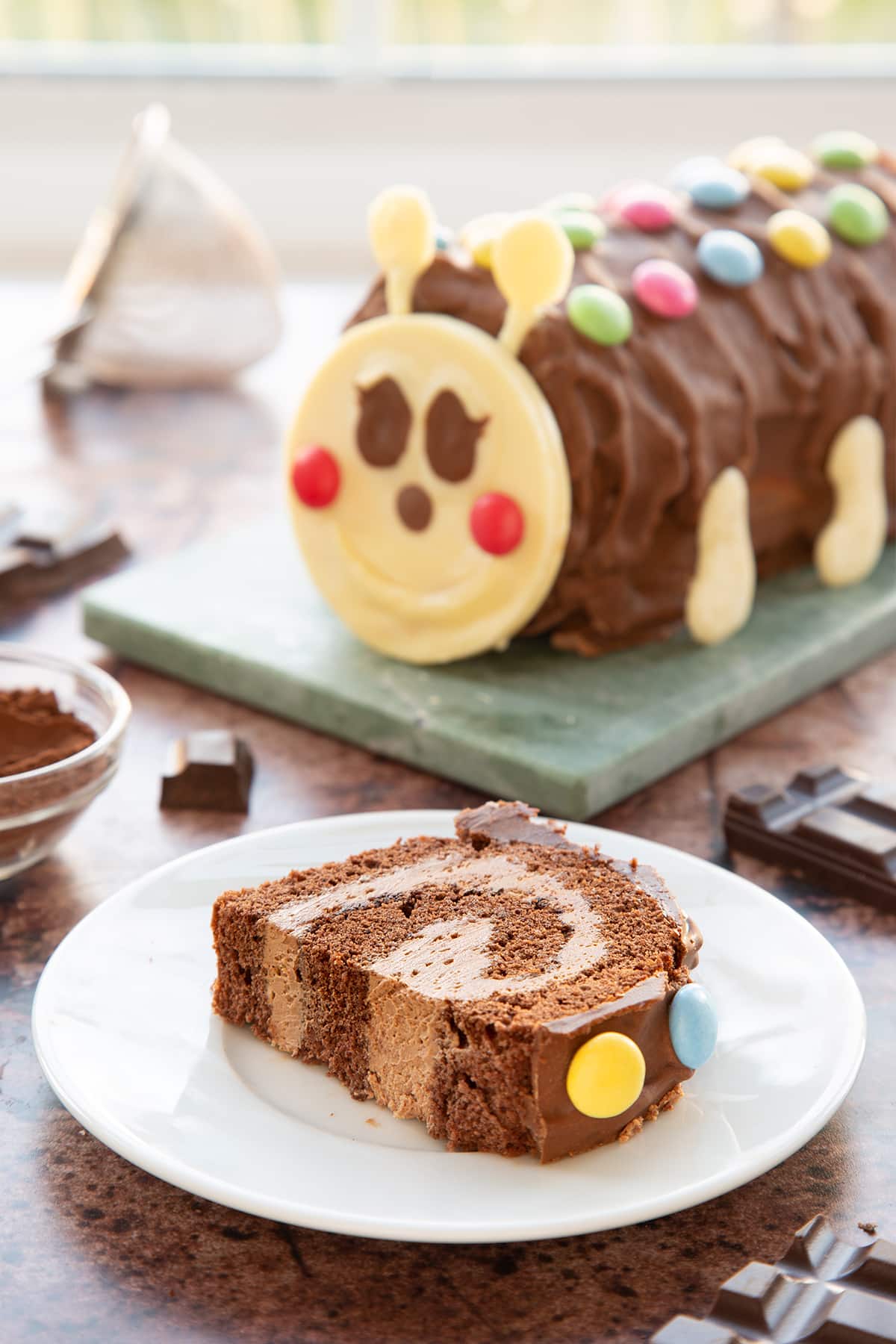 So, you can buy a caterpillar cake in pretty much every supermarket, but I think there's still something really special (and extra tasty!) about a homemade version. That's why I've put together this step-by-step caterpillar cake recipe with all my tips and secrets and lots of pictures to show you just how easy it is to make.
Ingredients
Equipment
Instructions
Make the sponge
Line the Swiss roll tray with baking paper and preheat the oven to 200C (180C fan).
Put the eggs and caster sugar in a large mixing bowl.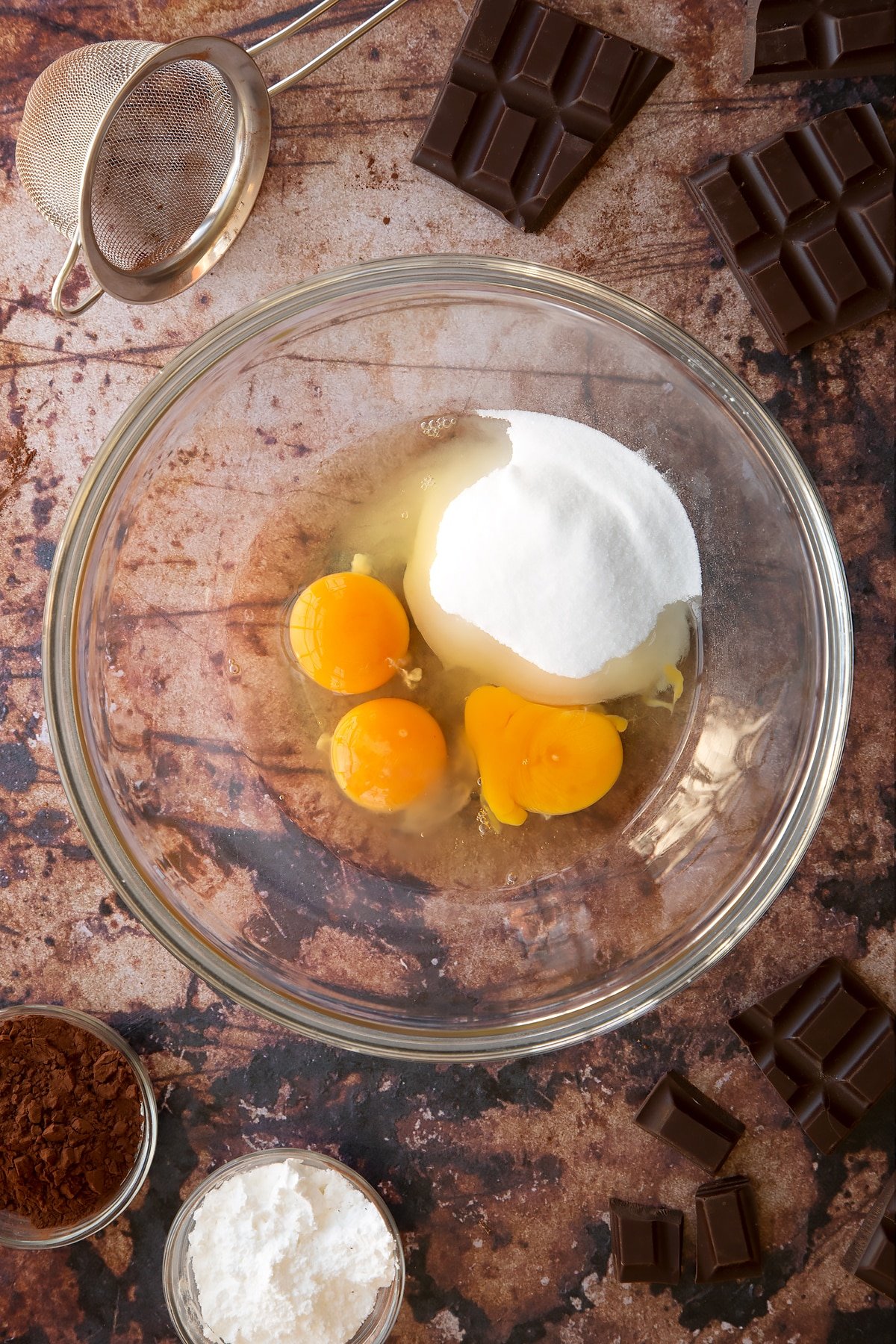 Whisk until thick, pale and considerably increased in volume.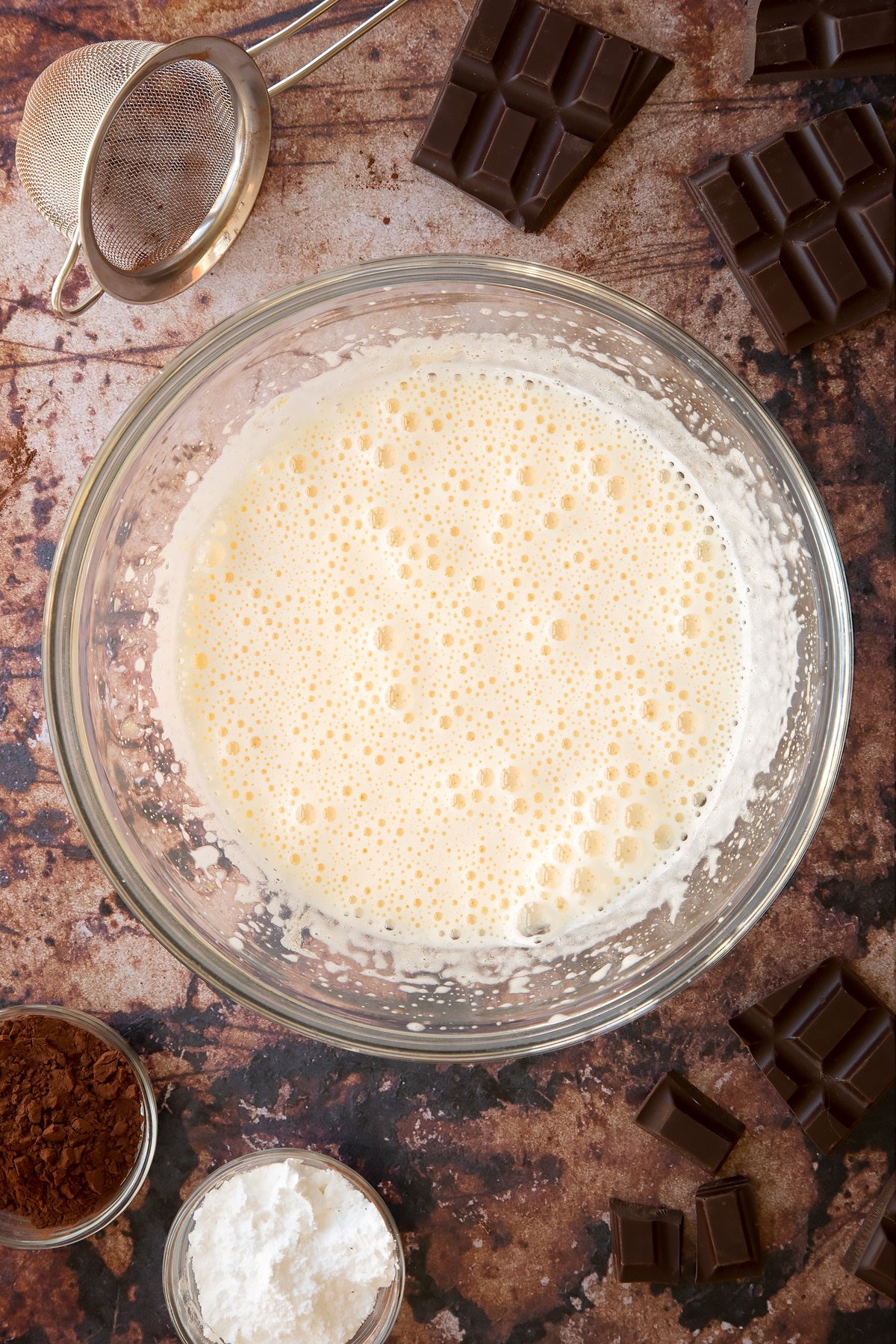 Sift in the flour and cocoa.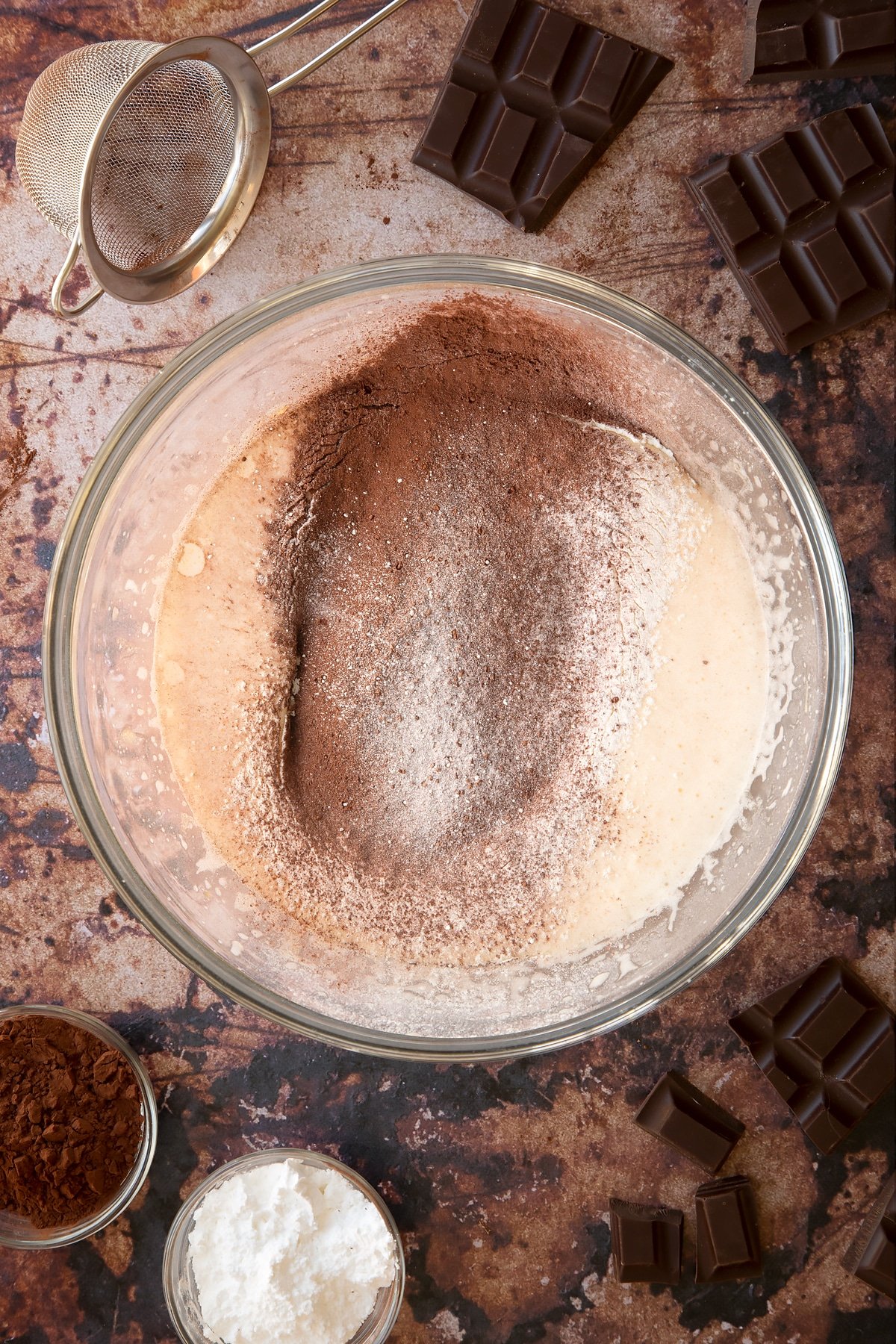 Fold through gently with a silicon spatula.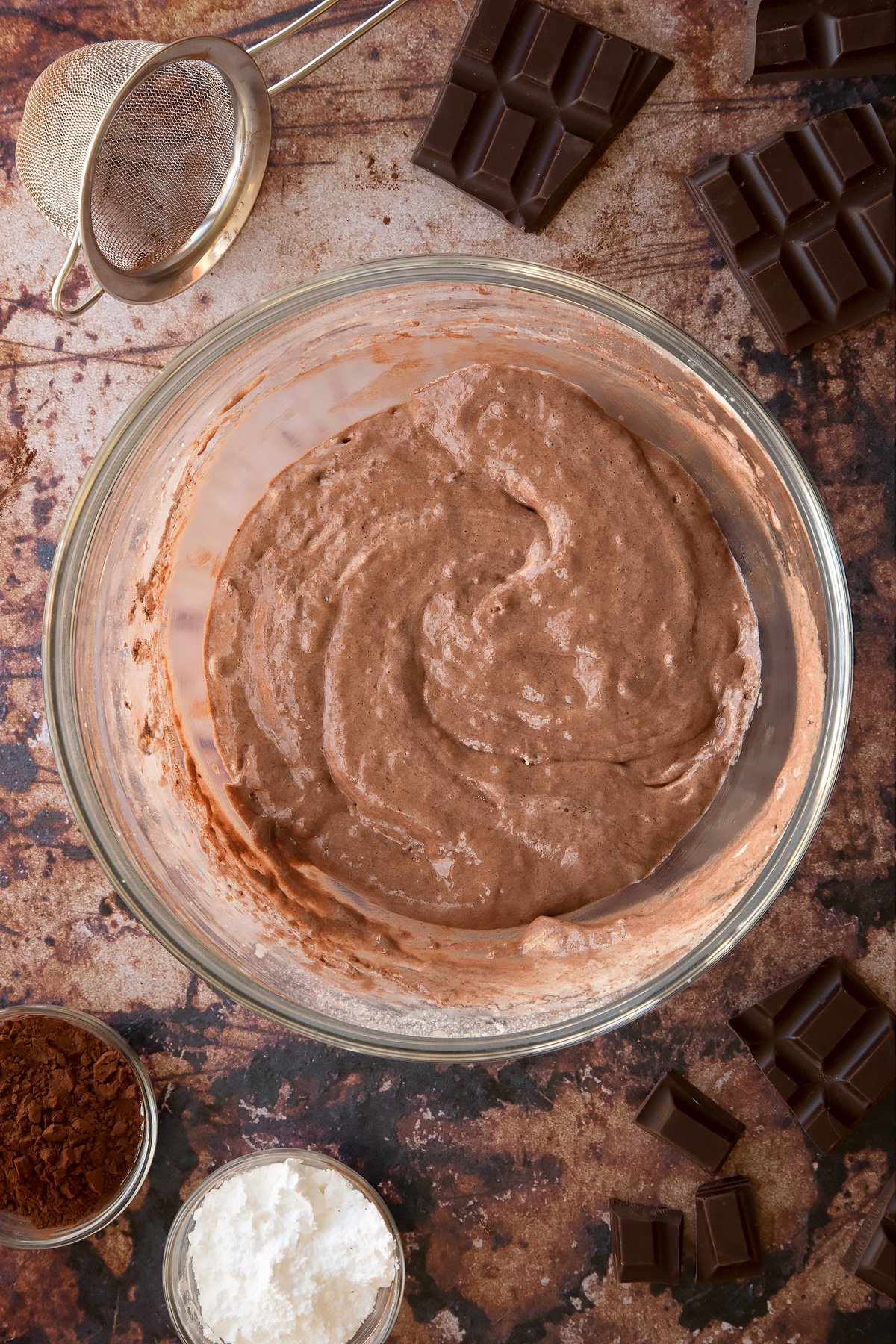 Tip the mixture into the lined tin and gently level off.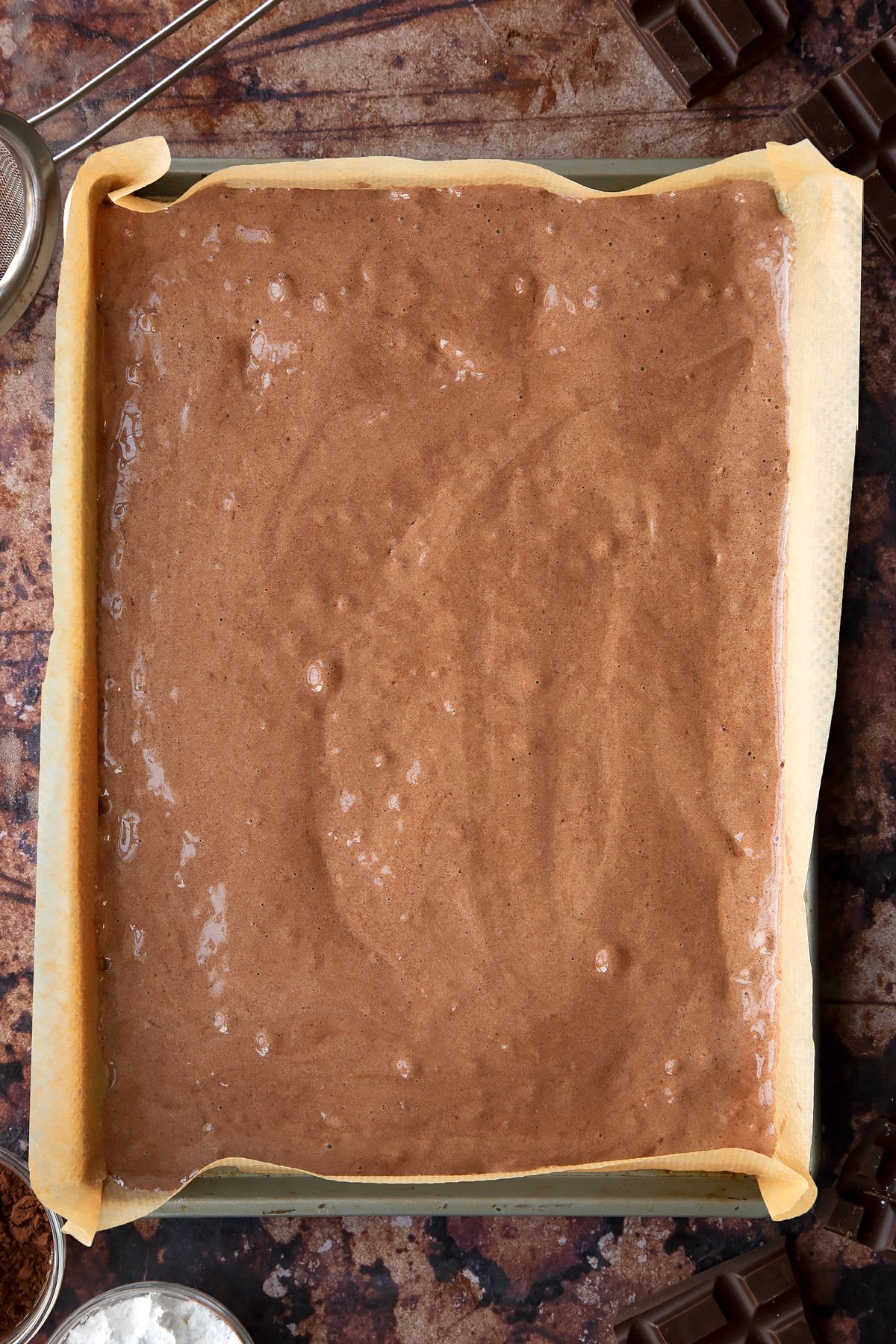 Bake for 8 minutes until just firm.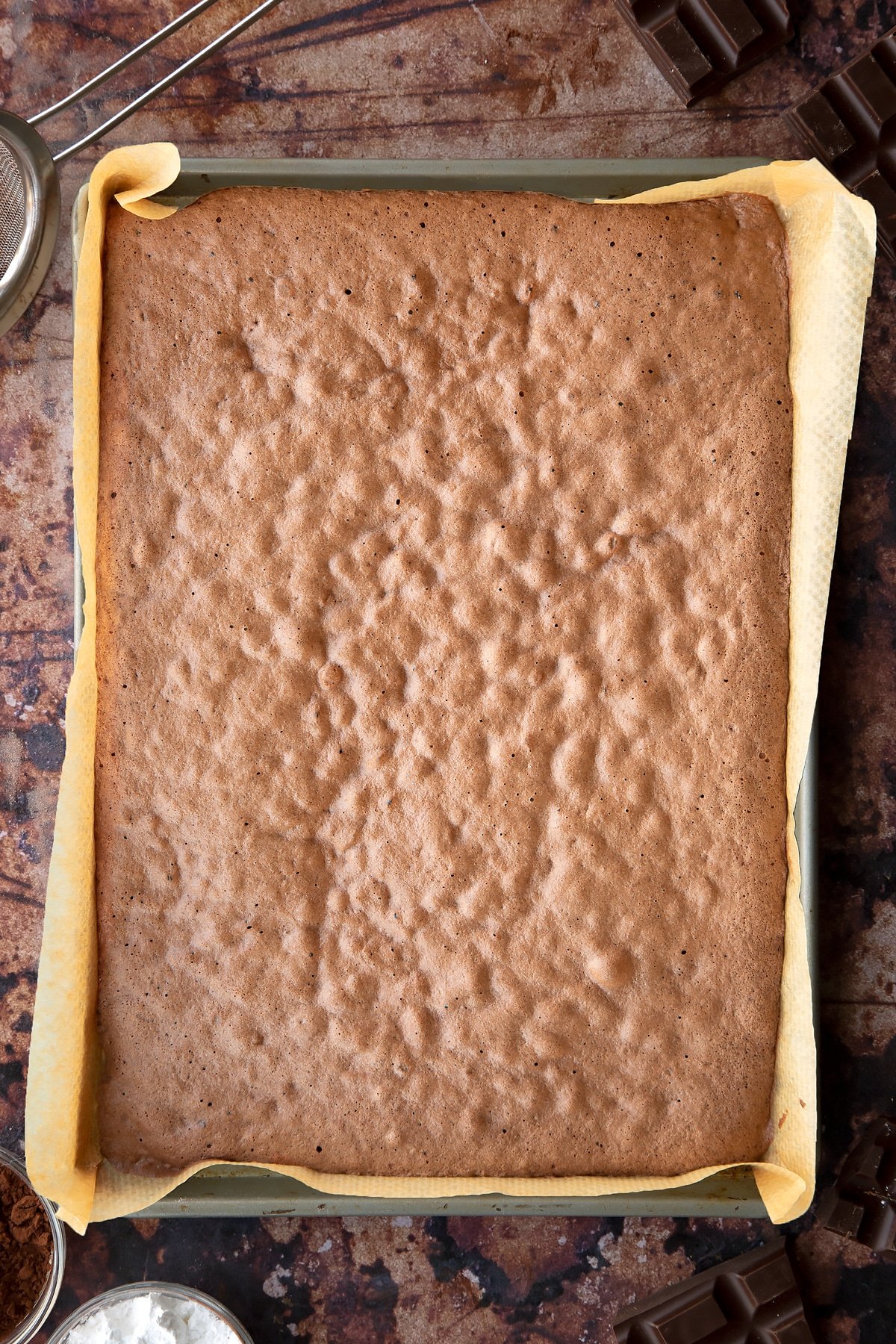 Shape the sponge
Lay a rectangle of baking paper out on your counter.
Sift the cocoa and icing sugar all over the paper.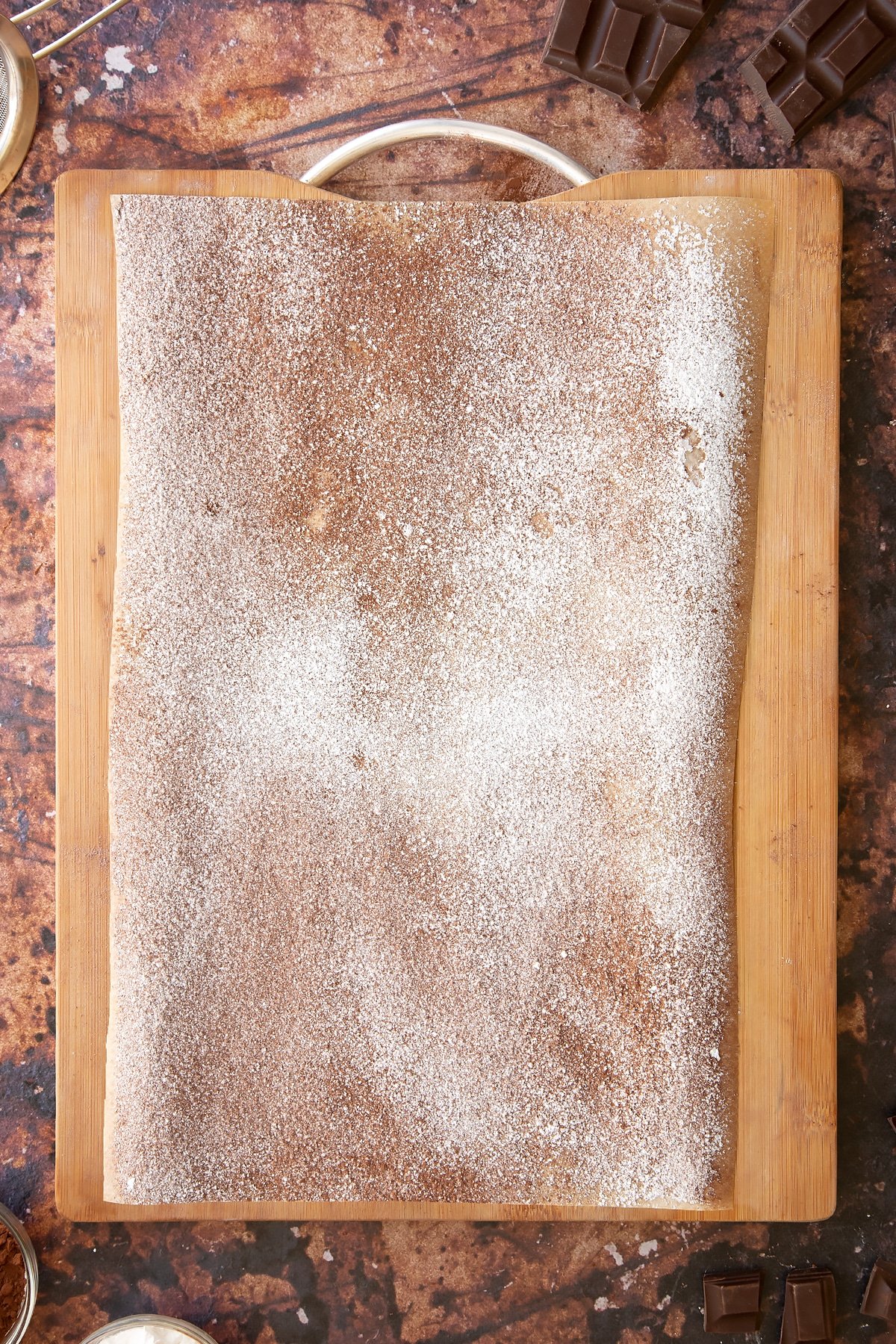 Turn the hot Swiss roll sponge out onto the baking paper.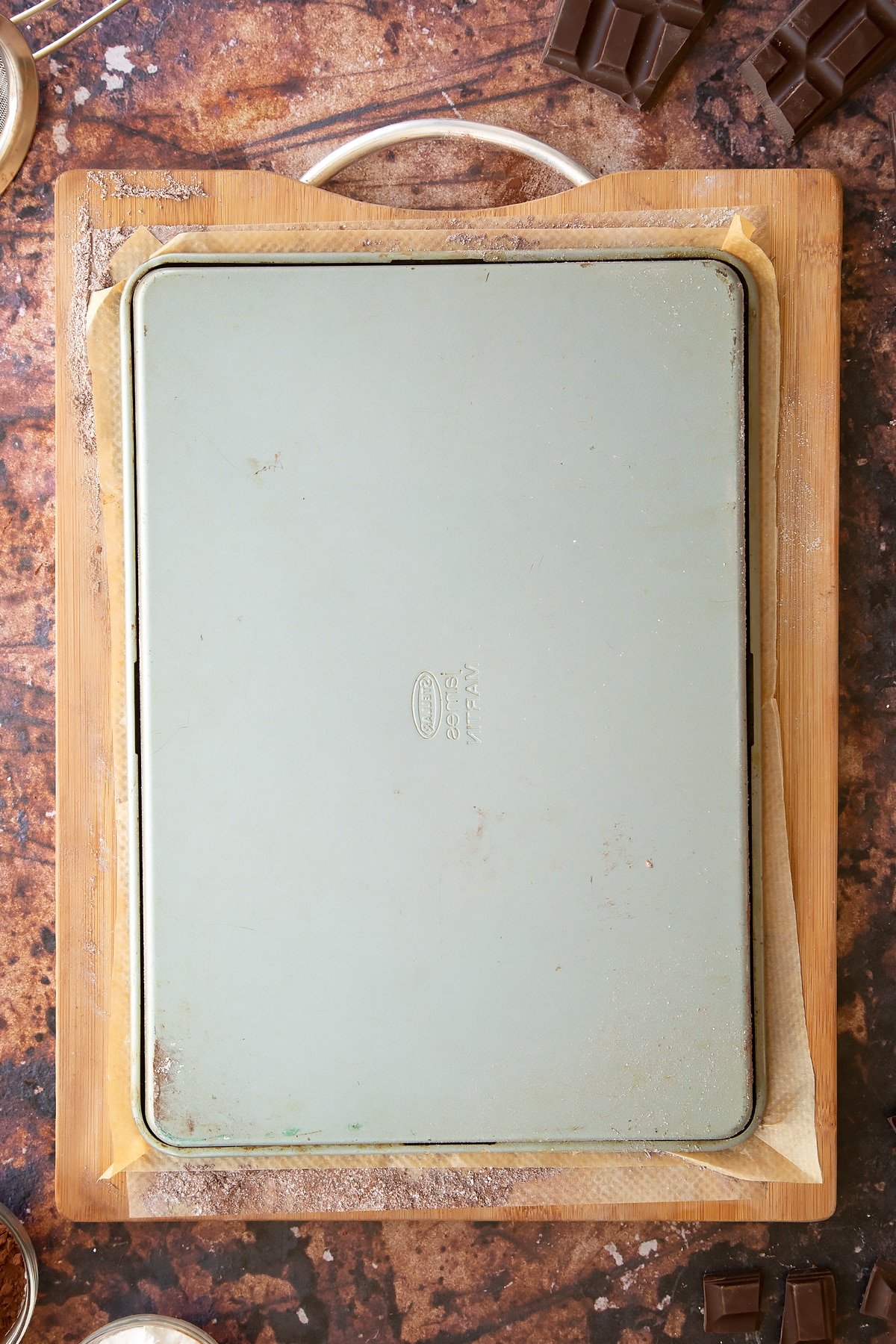 Carefully peel off the paper backing.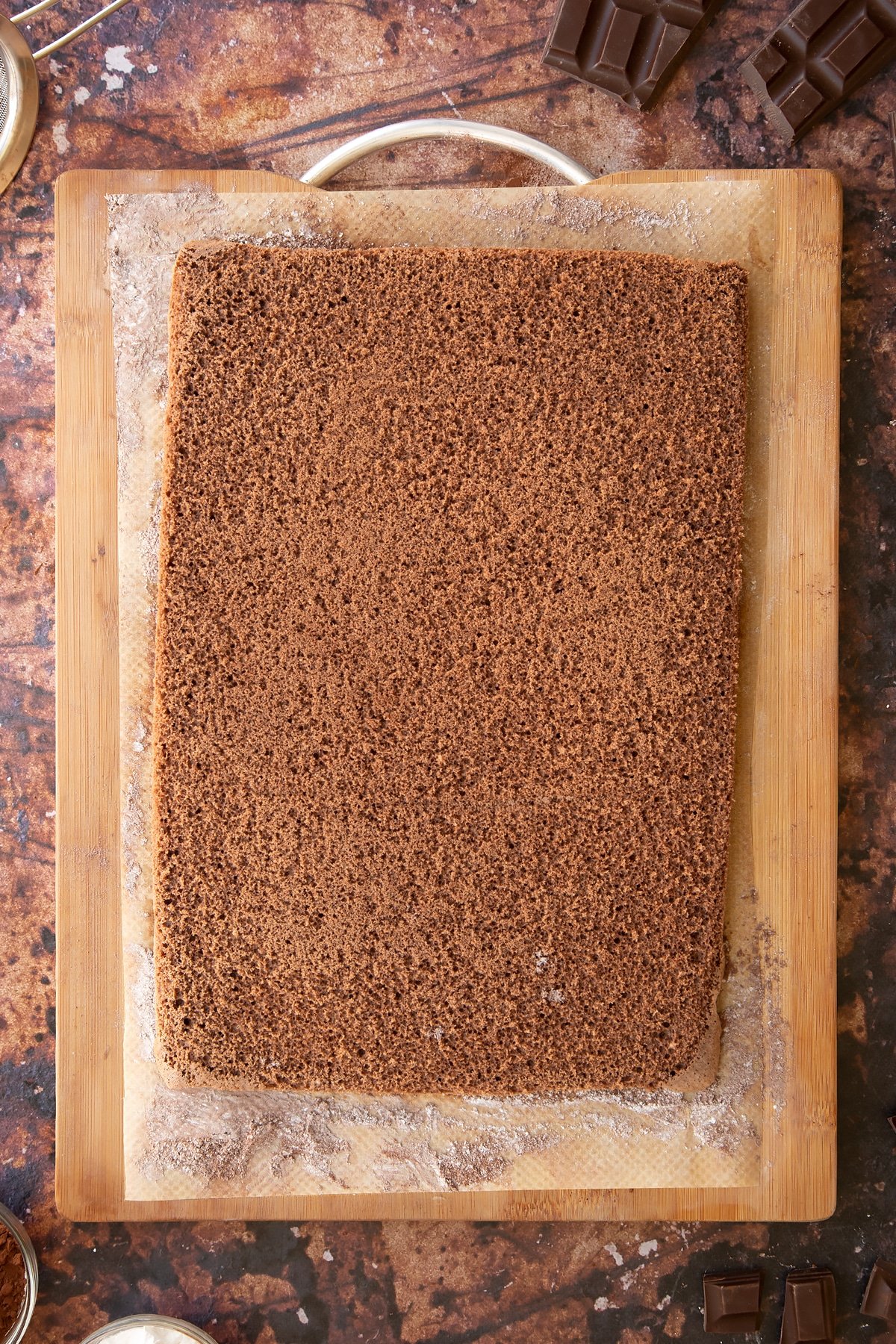 Lay a clean tea towel on top of the Swiss roll sponge.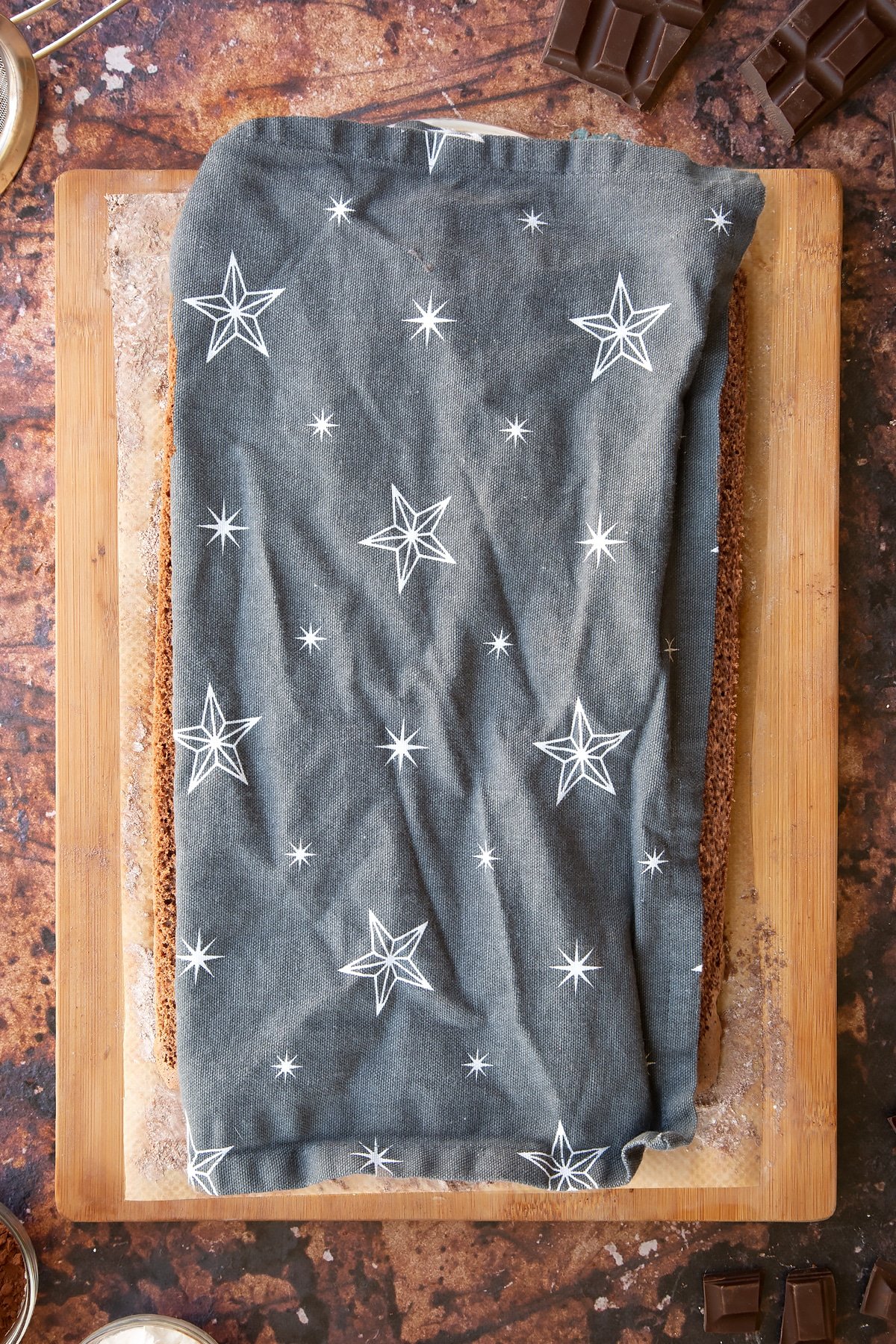 Carefully roll the sponge up with the tea towel and baking paper.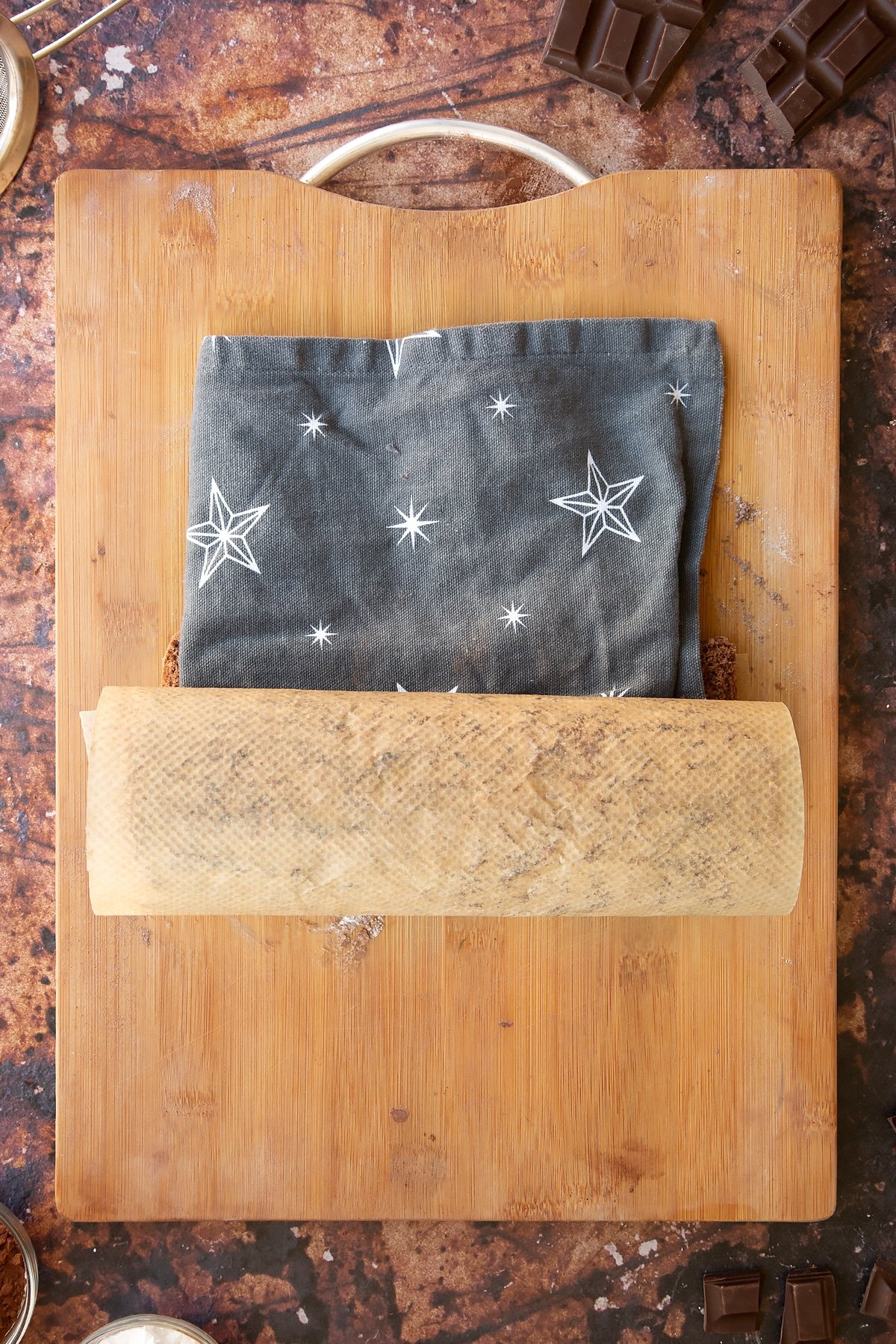 Leave rolled up to cool completely.
Make the frosting
Melt the dark chocolate and set aside to cool.
Put the icing sugar, butter, vanilla and milk in a mixing bowl.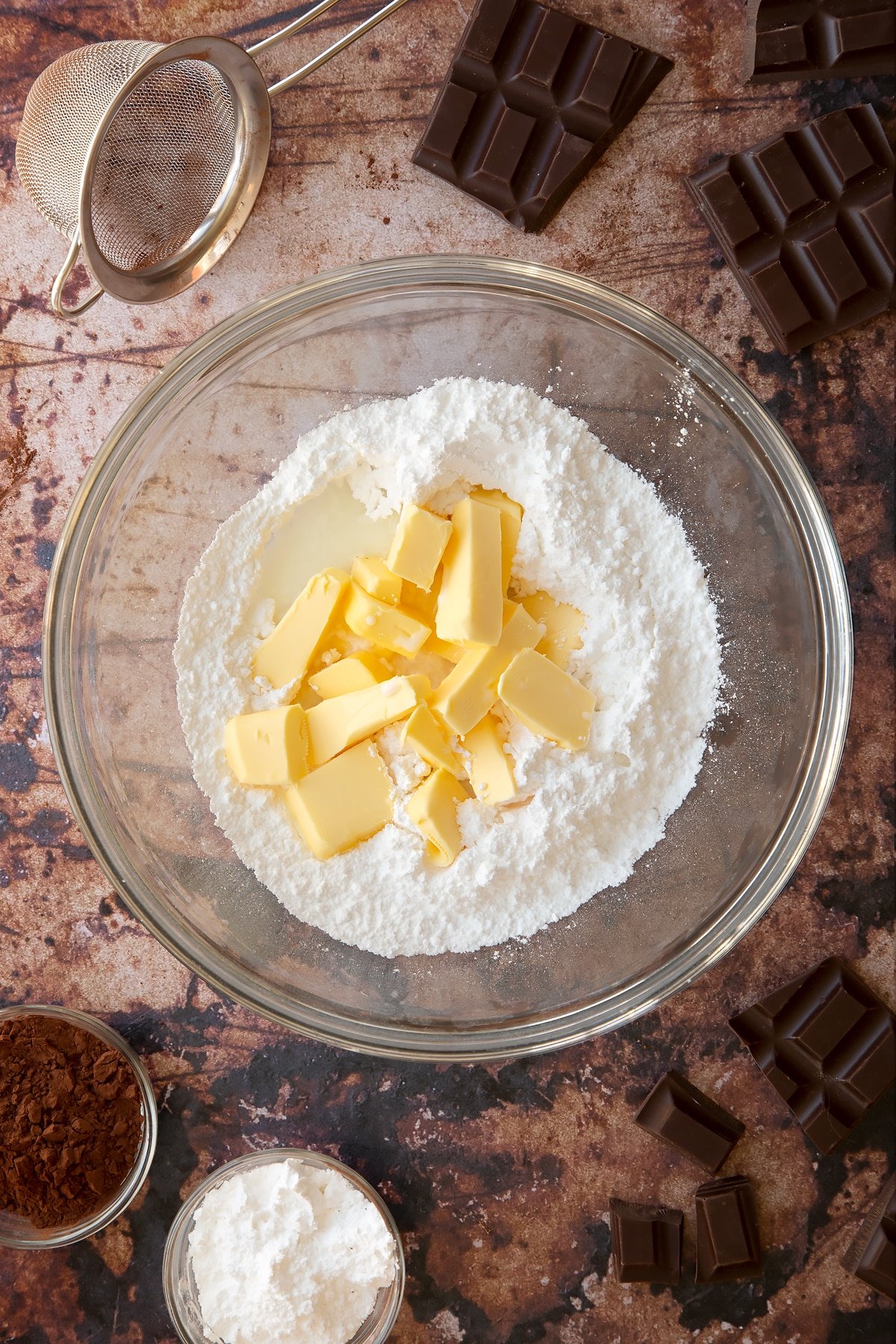 Whisk together until pale, smooth and considerably increased in volume.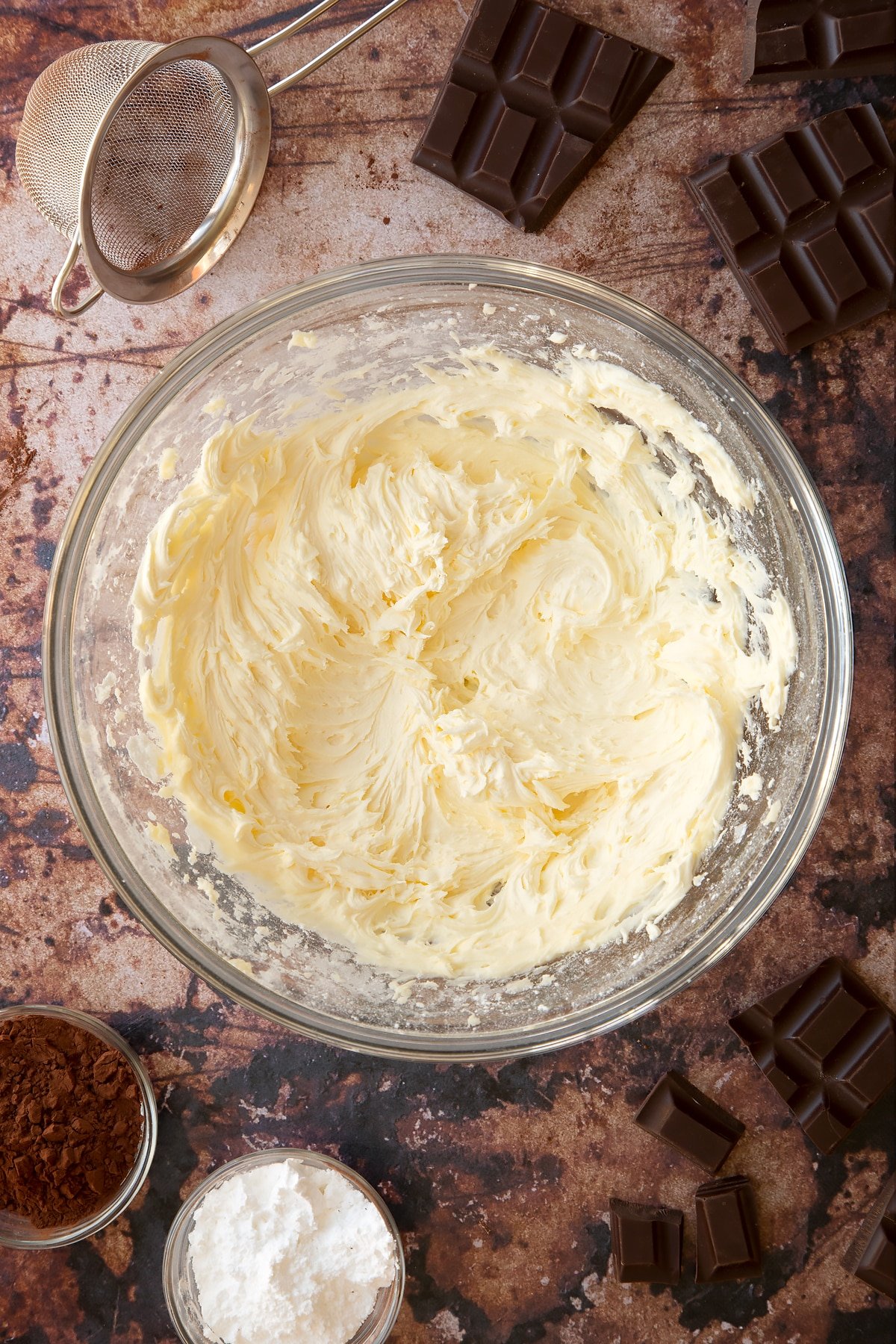 Add the cooled dark chocolate.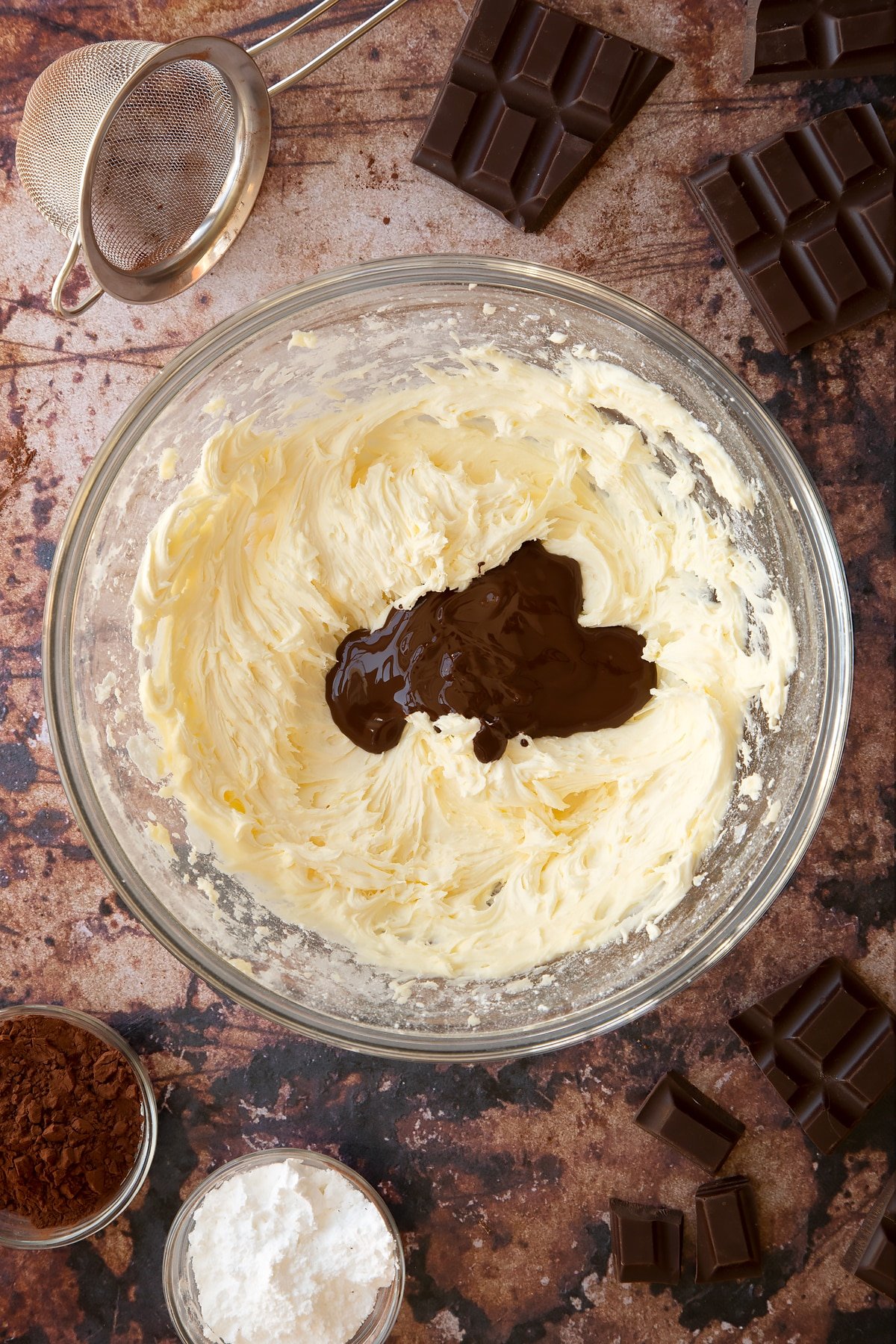 Whisk to a smooth chocolate frosting.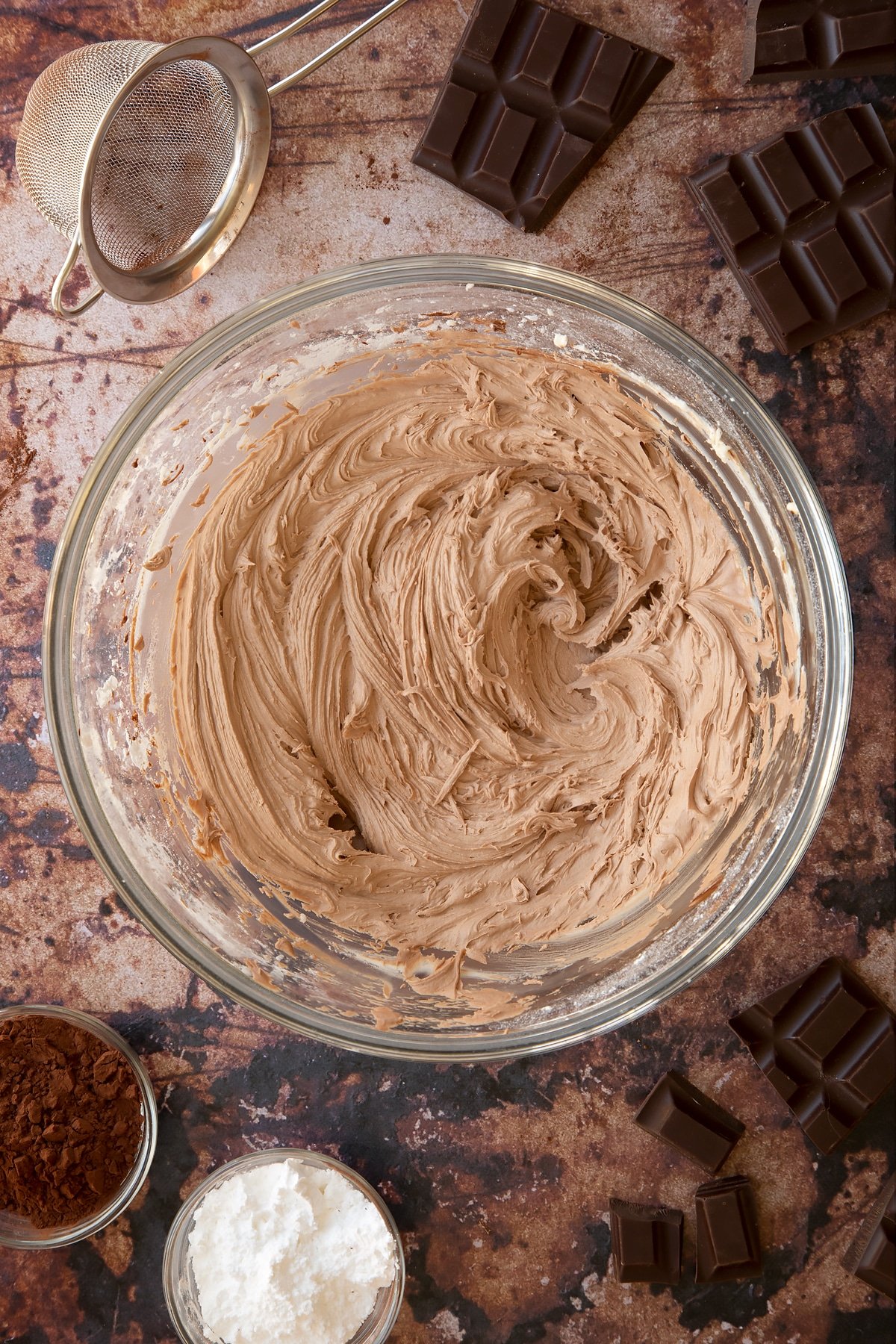 Fill the Swiss roll
Carefully unroll the sponge.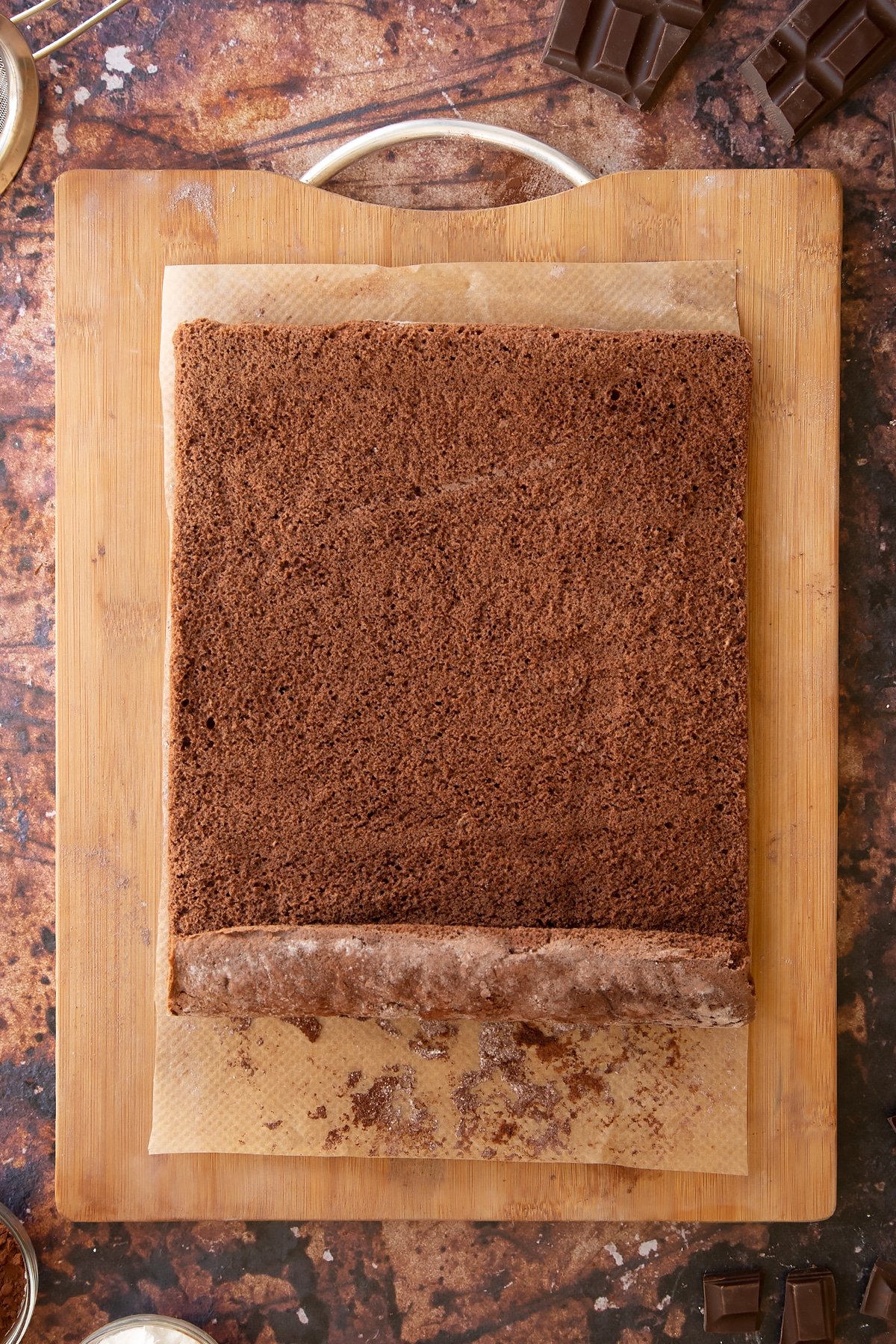 Spoon the frosting on top.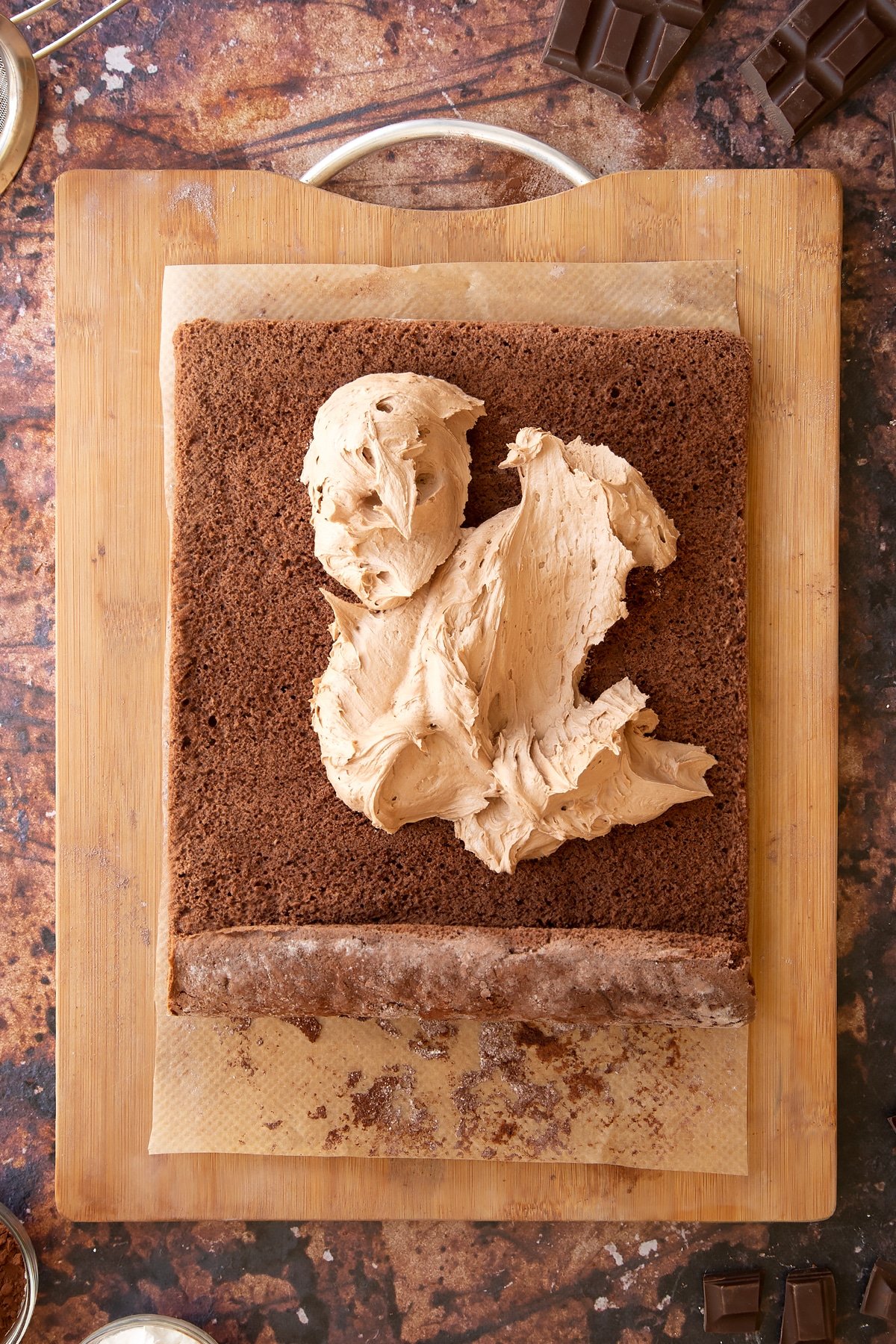 Spread to the edges.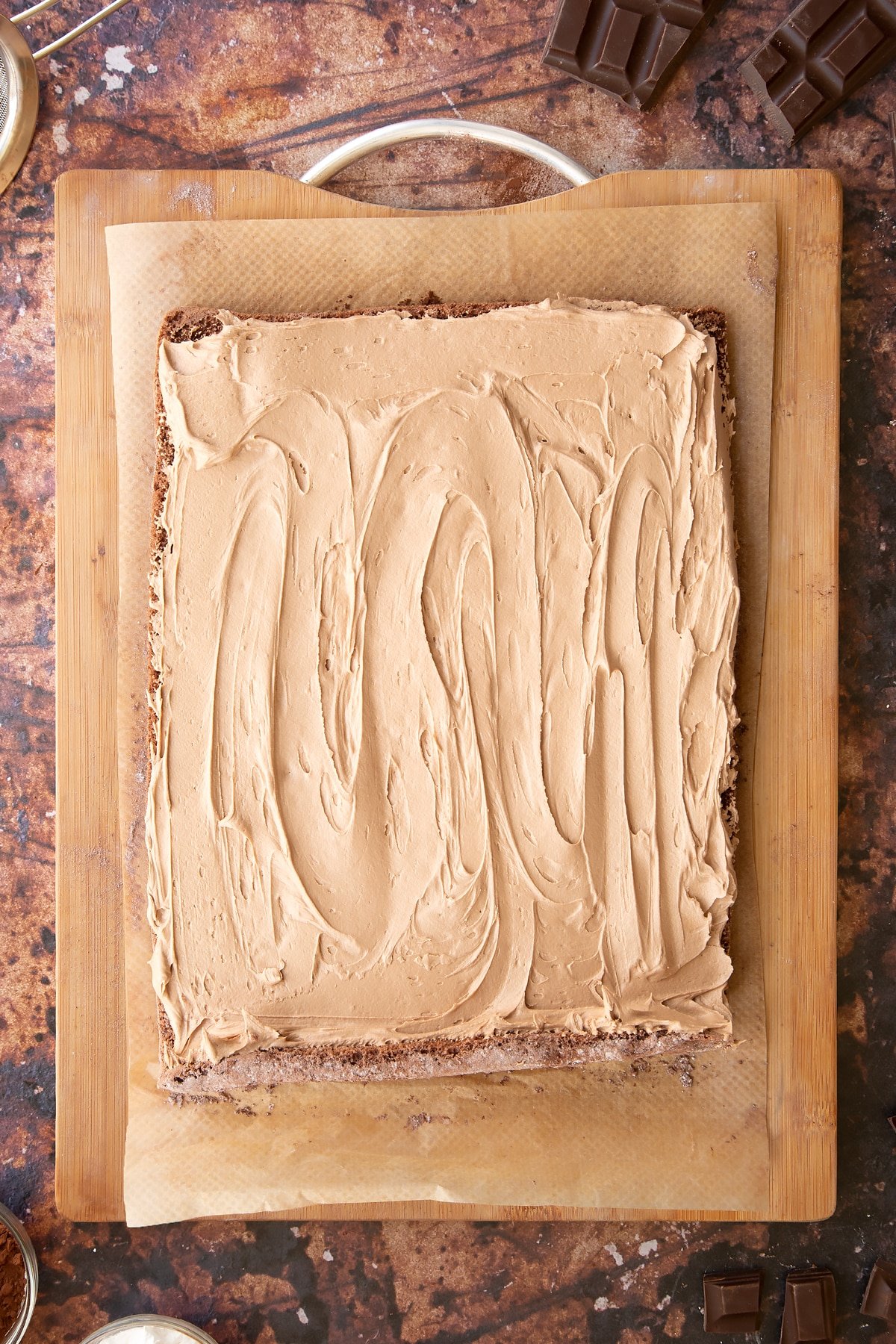 Roll back up, this time without taking the baking paper with it.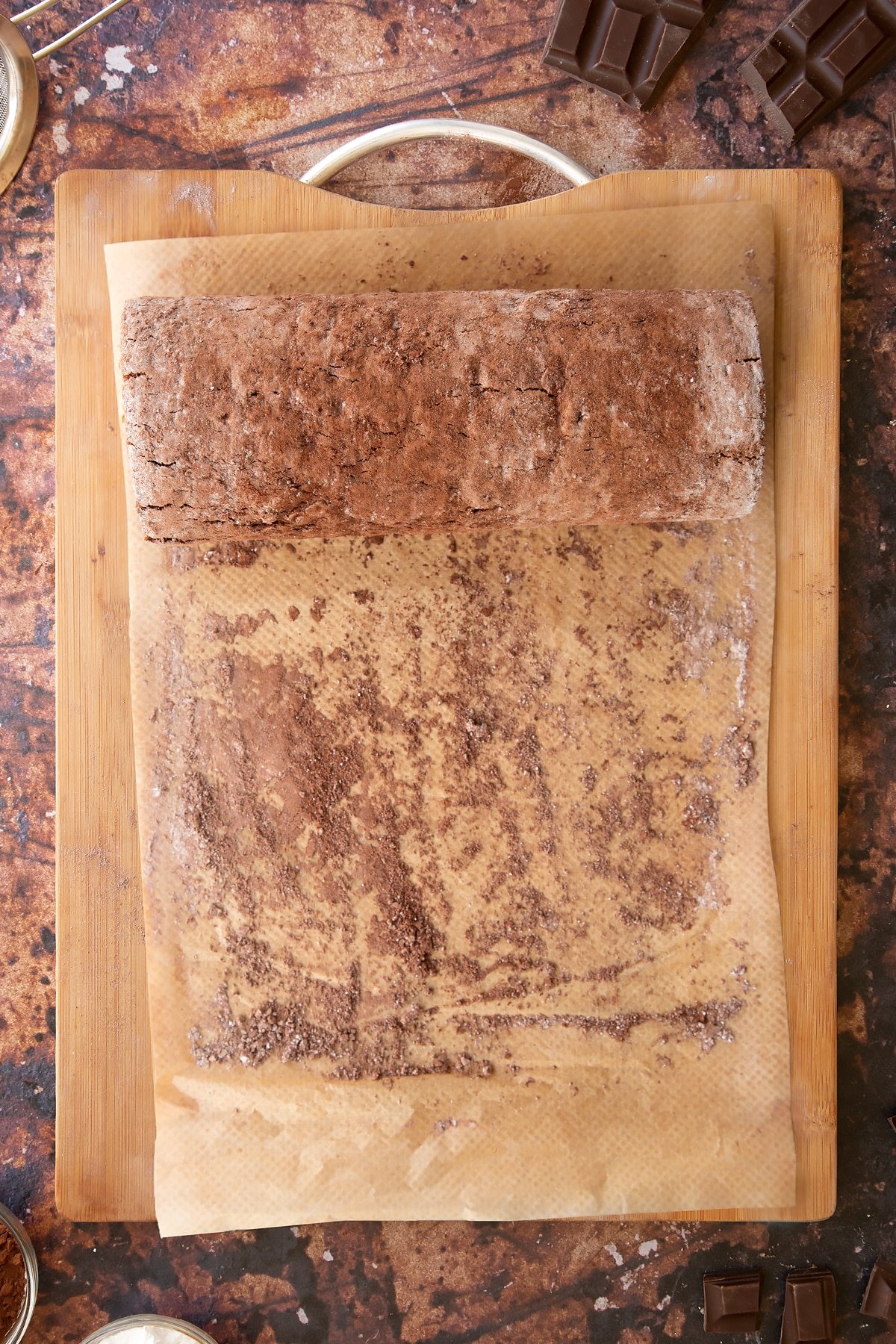 Transfer to a clean piece of baking paper.
Make the ganache
Break all the chocolate into a heatproof bowl.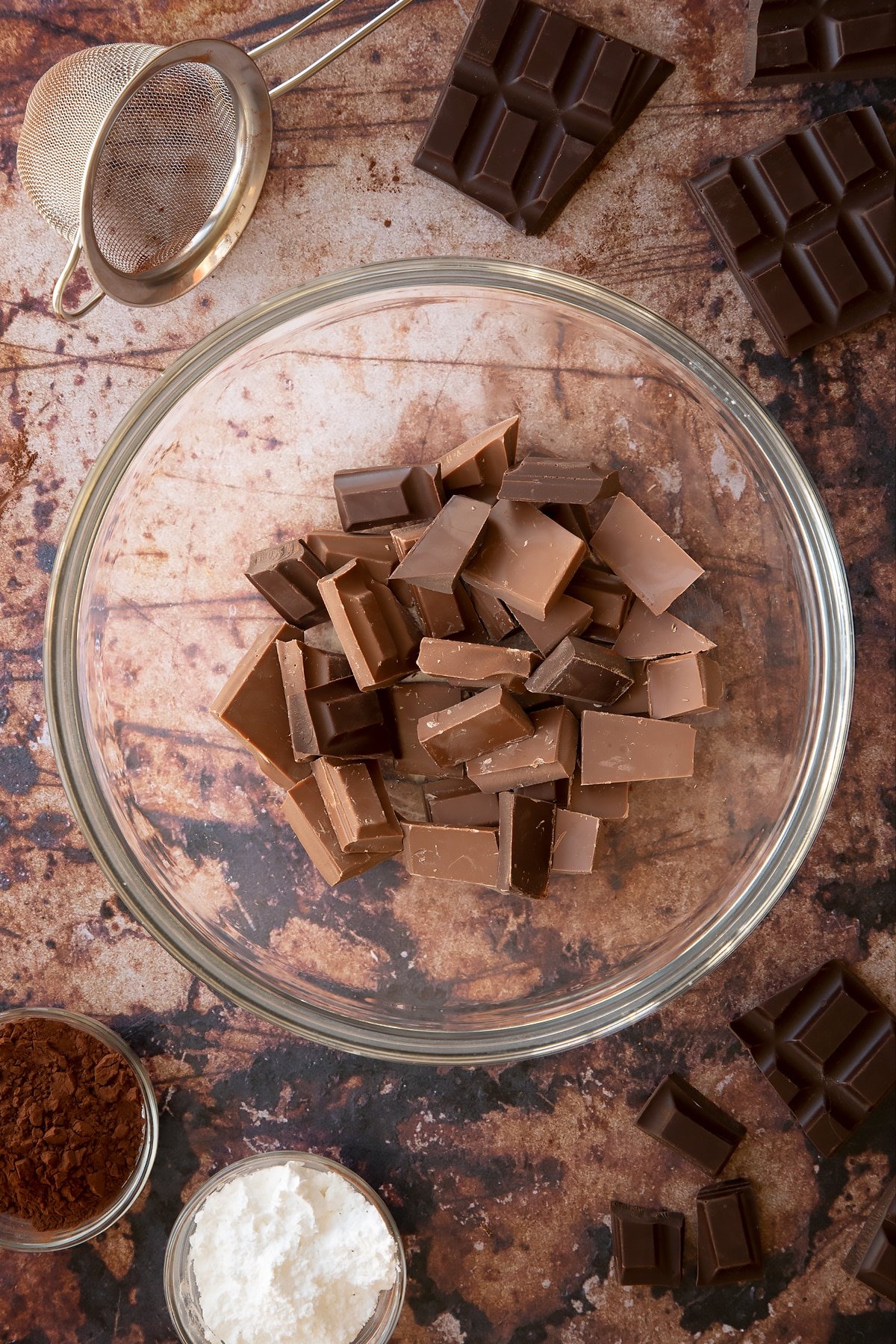 Melt.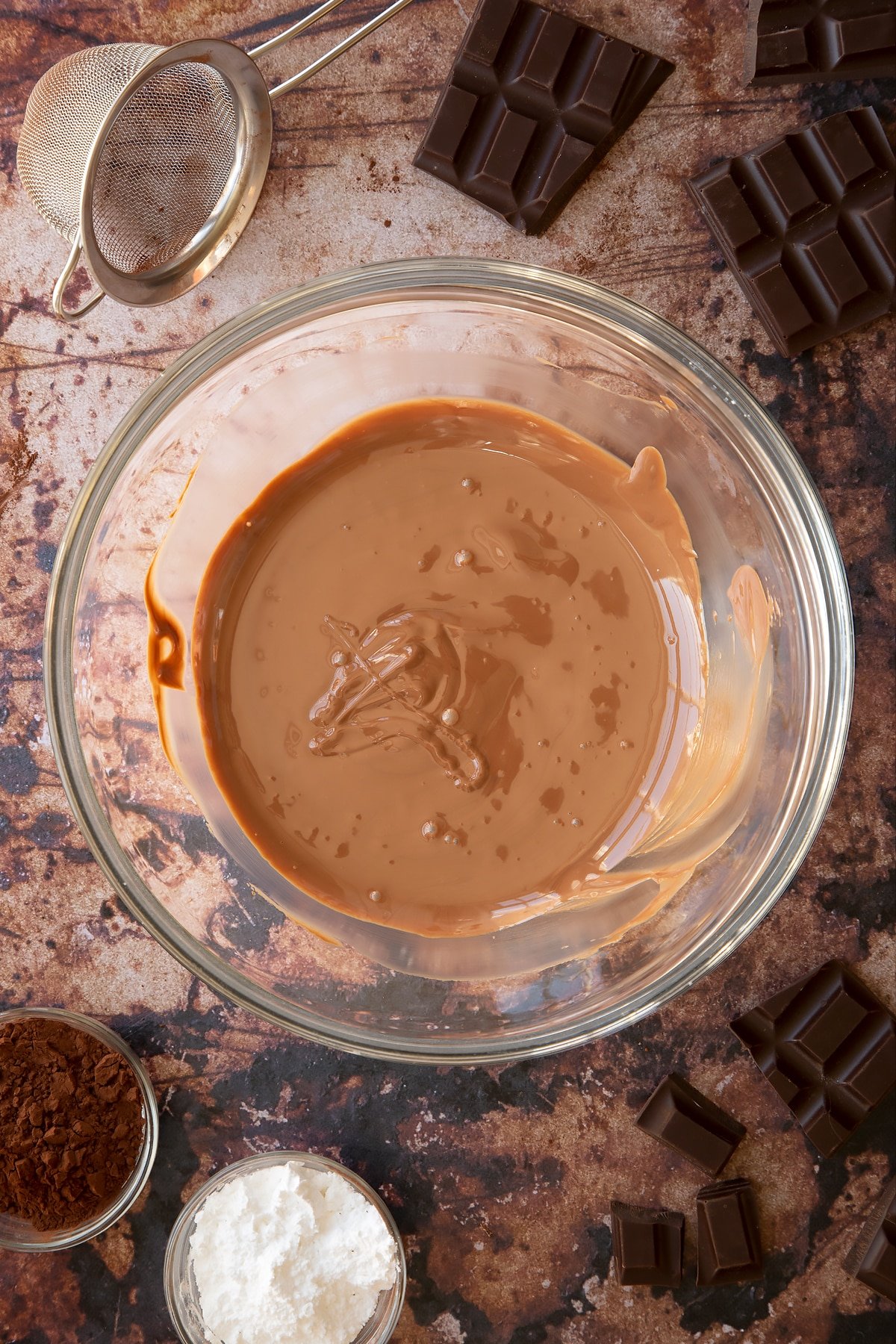 Add the double cream.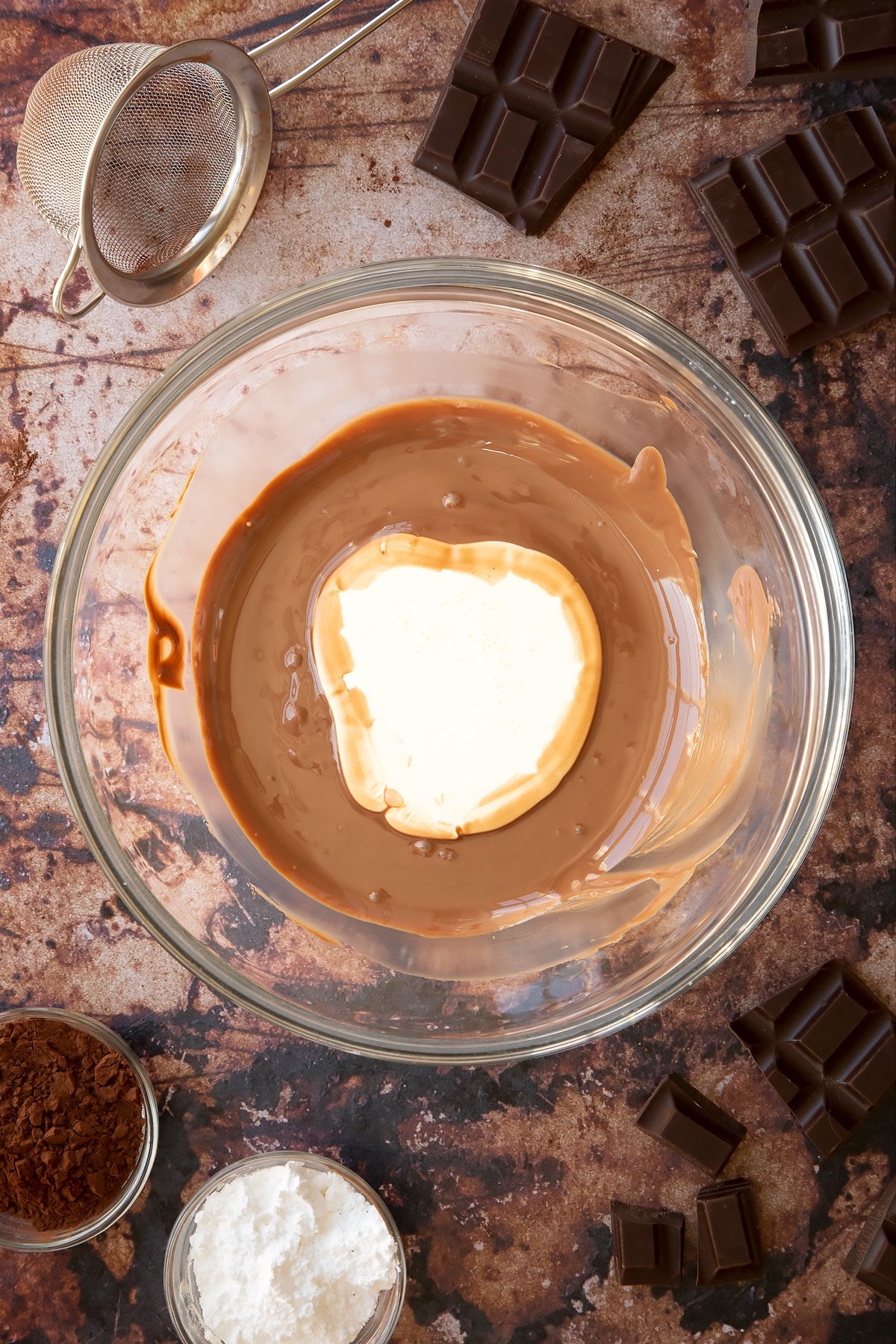 Whisk together to a glossy, thick ganache.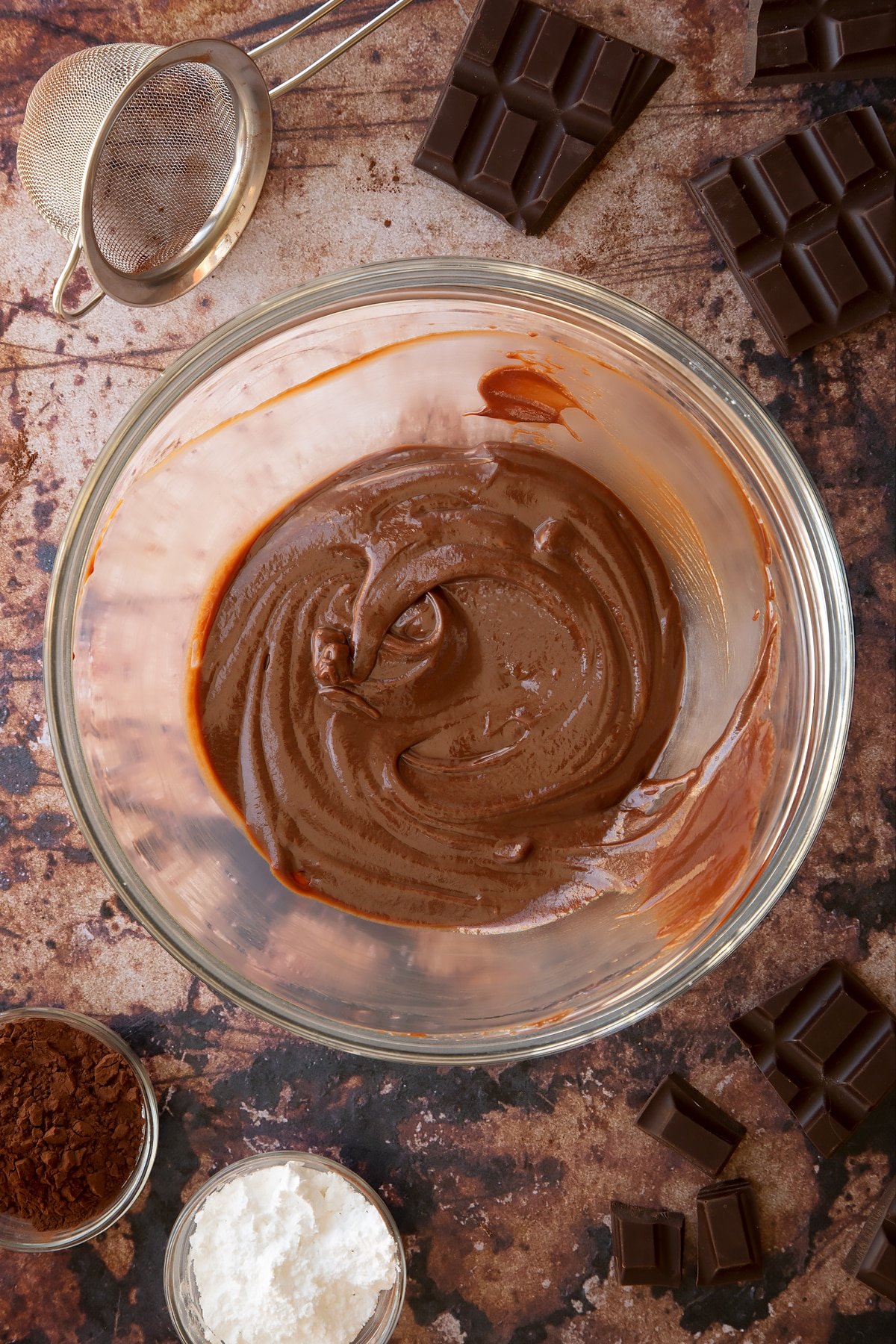 Cover the Swiss roll
Spoon the ganache on top of the Swiss roll.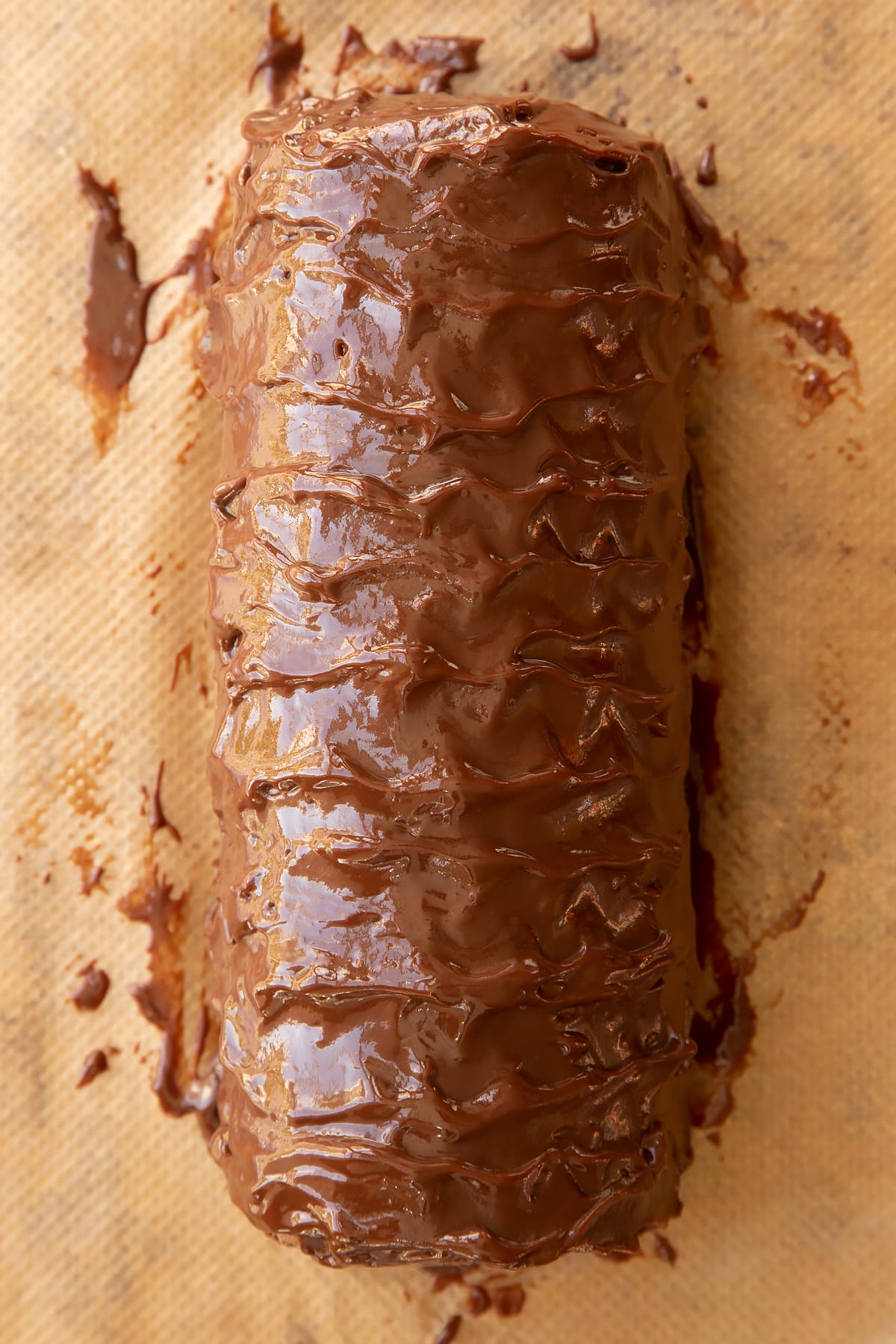 Spread all over to cover all sides.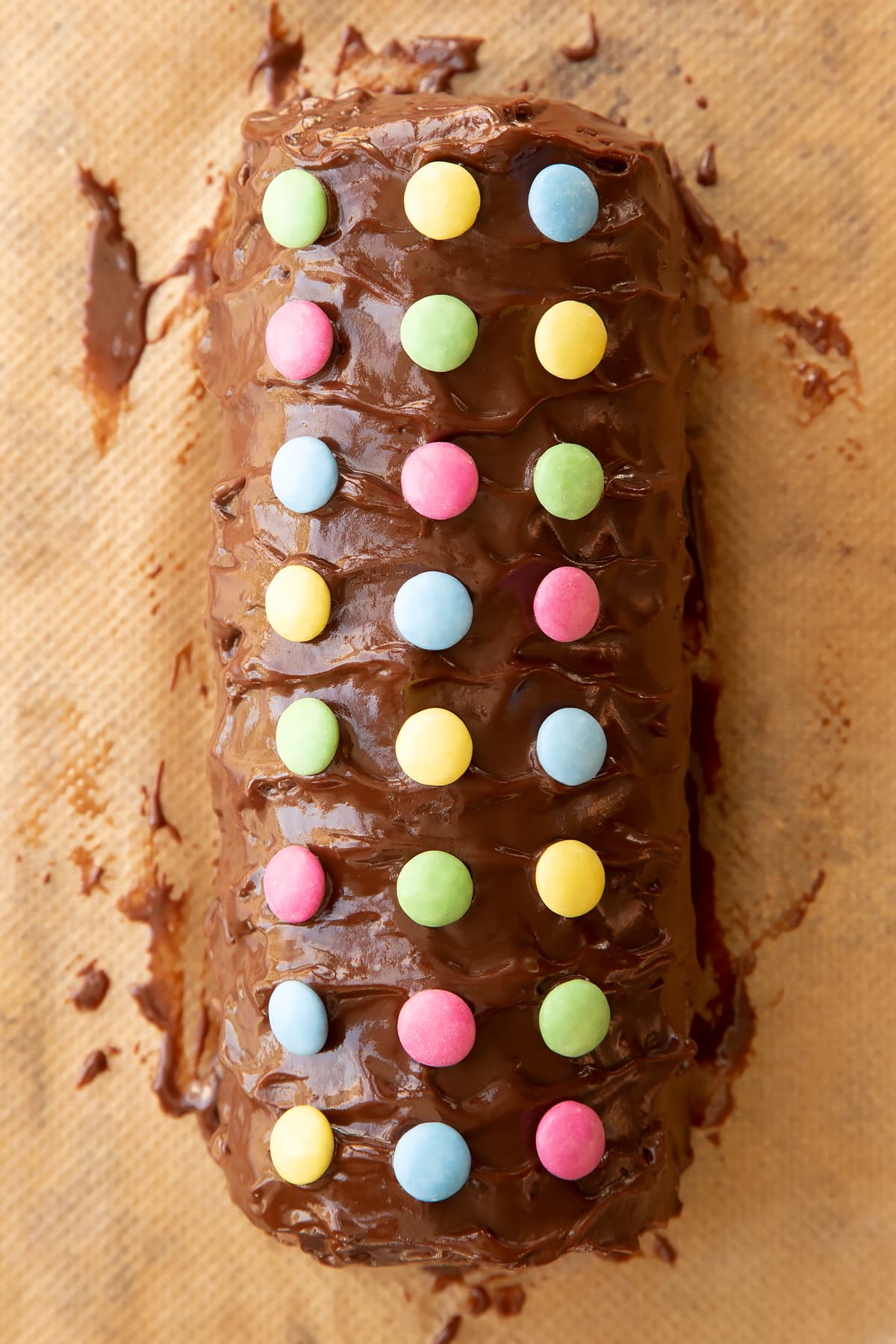 Position the Smarties on top. Leave to set completely - this may take up to an hour.
Make the legs and face
Line a tray with a bit of baking paper.
Melt the white chocolate and transfer to a small piping bag. Snip off the very tip.
Pipe some legs about 2cm/0.75inch tall onto a sheet of baking paper. Caterpillars have six 'true legs', but many species also have a number of 'pro legs', so I decided to give mine four legs on each side.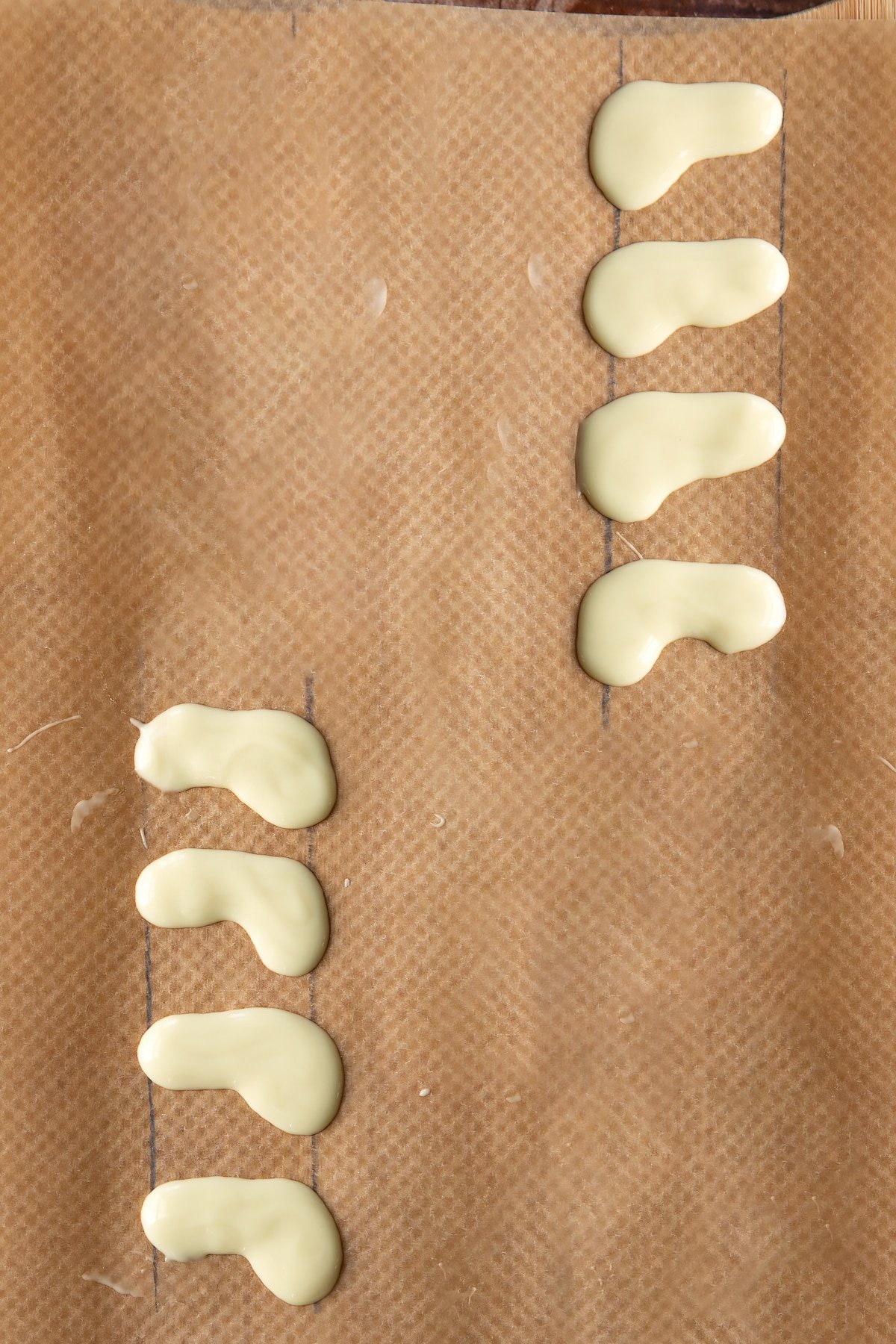 You'll also need to pipe a face for the caterpillar, aiming to make it about the same width as the end of your Swiss roll.
You can pipe the basic shape of the face free hand or, as I did, pour the melted chocolate into a clean Pringles lid.
Use melted milk chocolate in another piping bag to add eye and nose details, then gently add two Smarties to look like rosy cheeks.
Pipe the antennas separately on the tray. Pop the tray in the fridge so that the legs, face and antennae can set.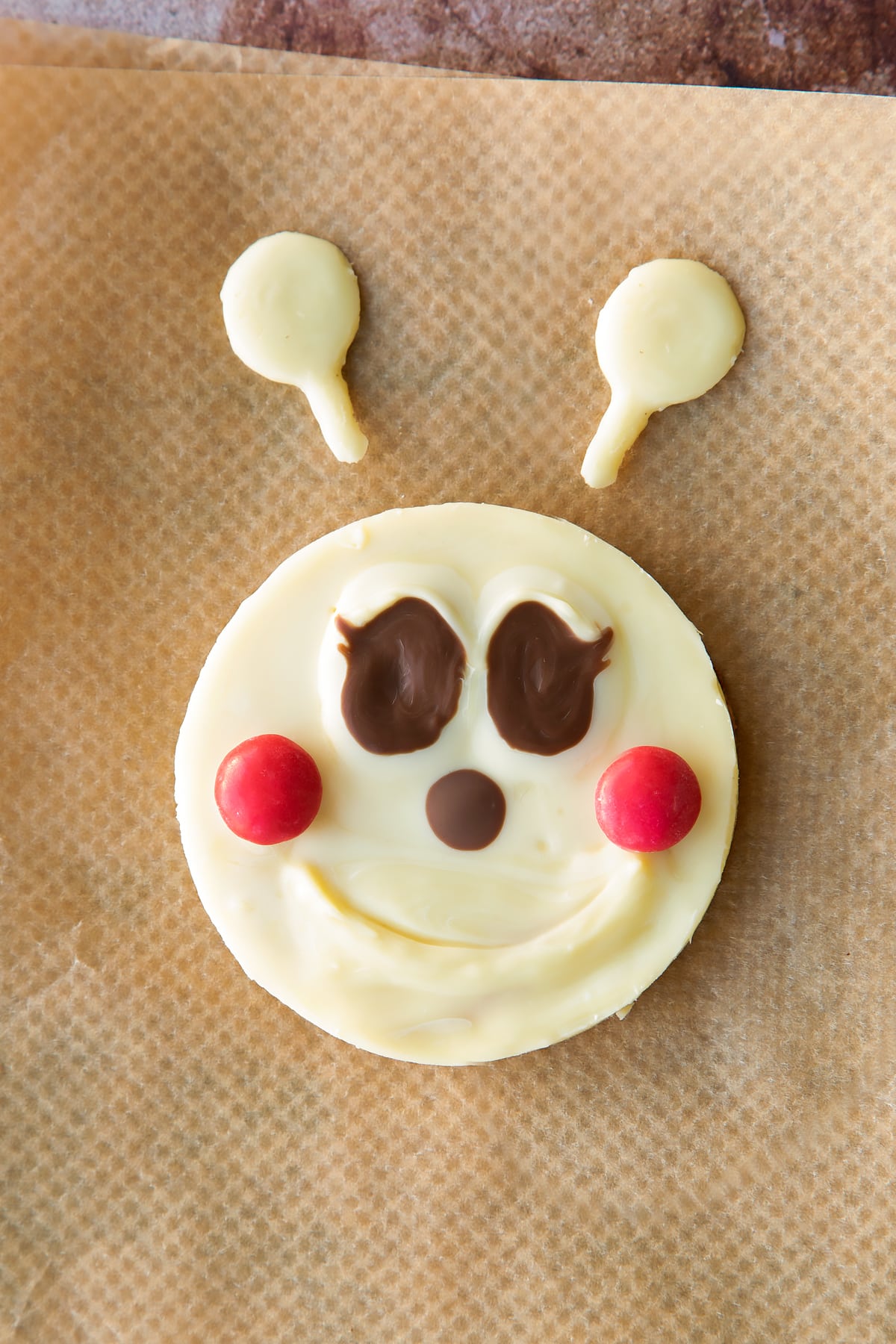 Once set, cut your caterpillars face free of the Pringles lid mould.
Position the on the front of the cake, the antennae just above, and the legs along the length of the caterpillar's body. face in place, fixing each with a dot of leftover melted chocolate.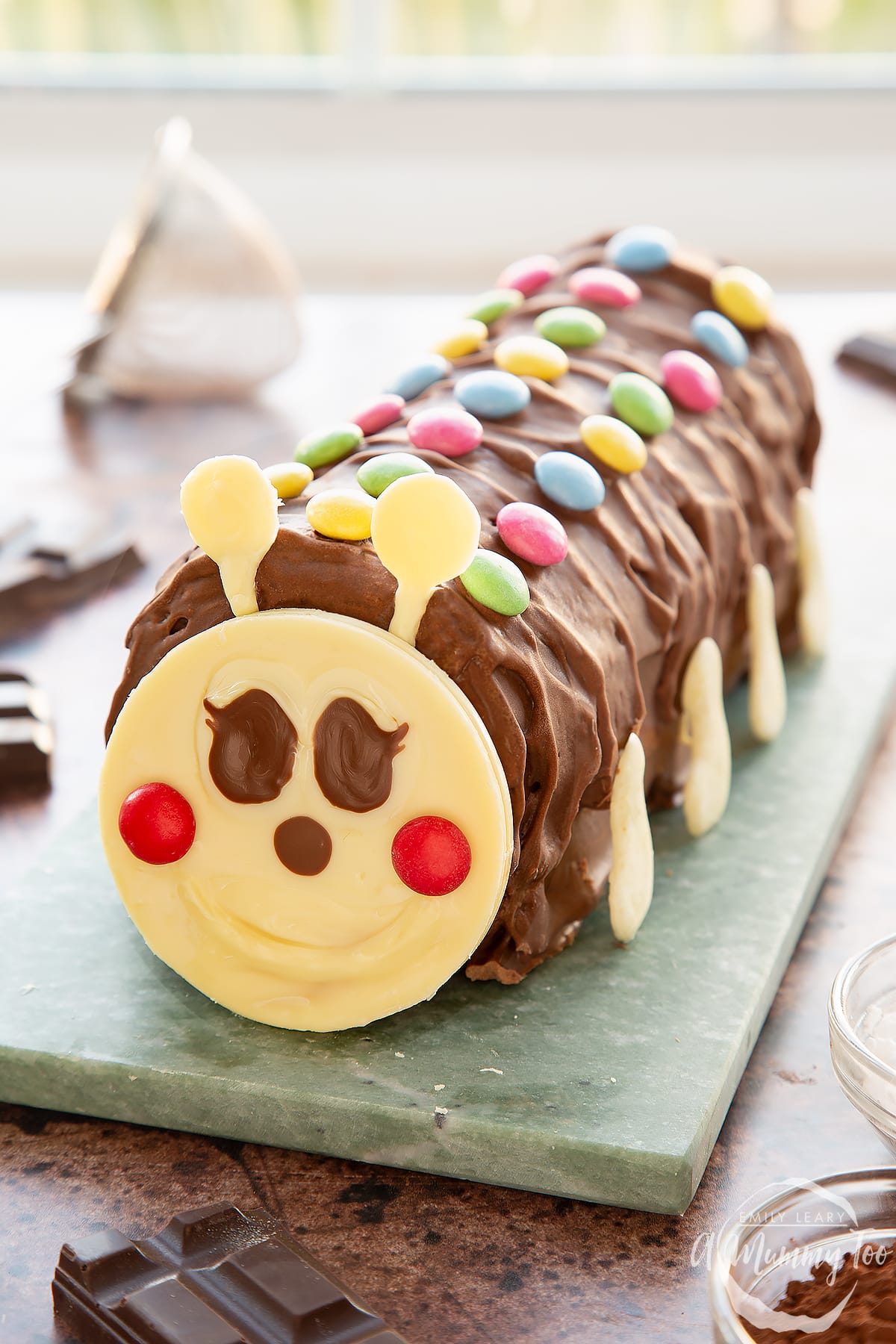 Leave to set and then serve.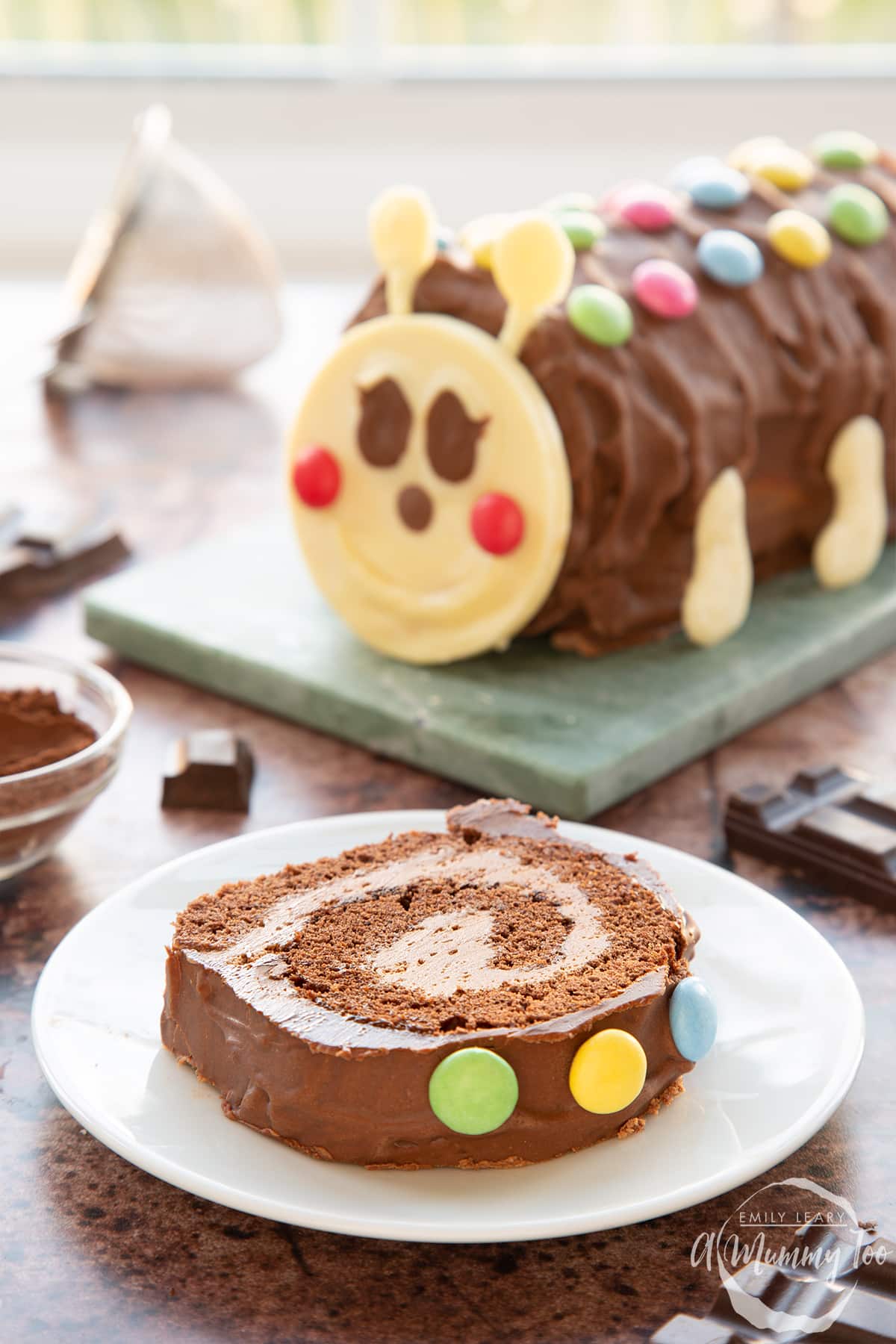 Enjoy!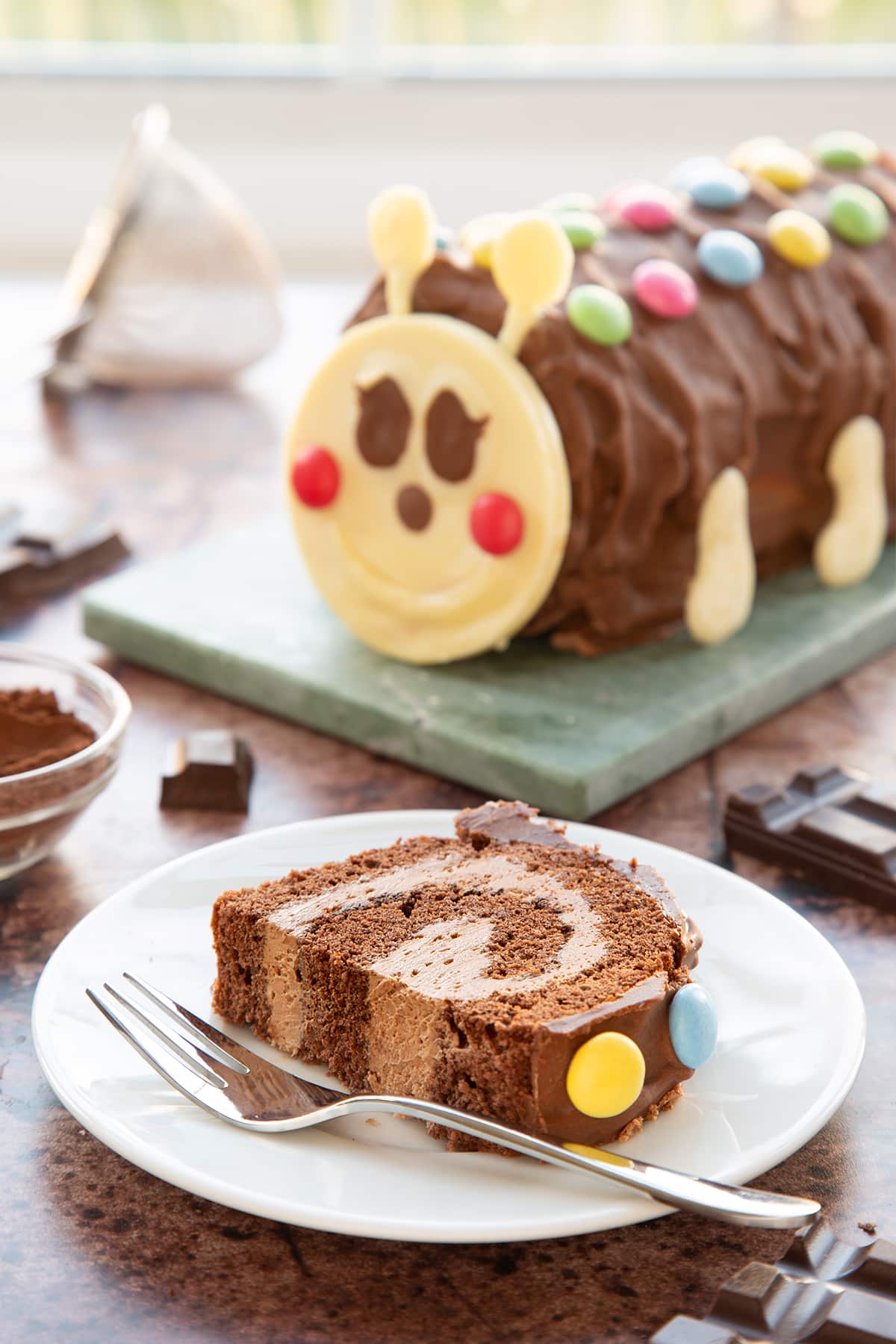 Pointers, tricks and troubleshooting tips for the perfect caterpillar cake recipe
Is caterpillar cake easy to make?
There are quite a few elements to this cake but they're all very straightforward with simple ingredients, and putting it all together is great fun.
I recommend reading the full recipe before you start so that you know exactly what's required, and then getting out all the ingredients so that you have them on hand. You can even measure them all out, if you like, to allow you to focus on the process.
Will I need any special equipment for to make this caterpillar cake recipe?
You'll probably have everything you need for this cake in your kitchen already, such as weighing scales and measuring spoons, a mixing bowl and a silicon spatula.
An electric whisk is recommended as you need to whip the eggs and sugar together until they're really thick, pale and increased in volume. Even with an electric whisk, this takes a couple of minutes, so with a manual whisk you would get a very tired arm. It's not impossible though!
You'll need a tin to bake your sponge in. I recommend a non-stick Swiss roll tin, measuring 23cm x 33cm (9 inch x 13 inch). Swiss roll tins have shallow, straight sides, which makes them perfect for the job, but any similar size tray will do as long as it roughly fits that description.
Finally, you'll need two little piping bags to create the face and leg details, and a Pringles lid if you want to achieve a nice round face. The Pringles lid isn't essential as you can pipe totally freehand, if you like.
There is a full list of suggested equipment on the recipe card below.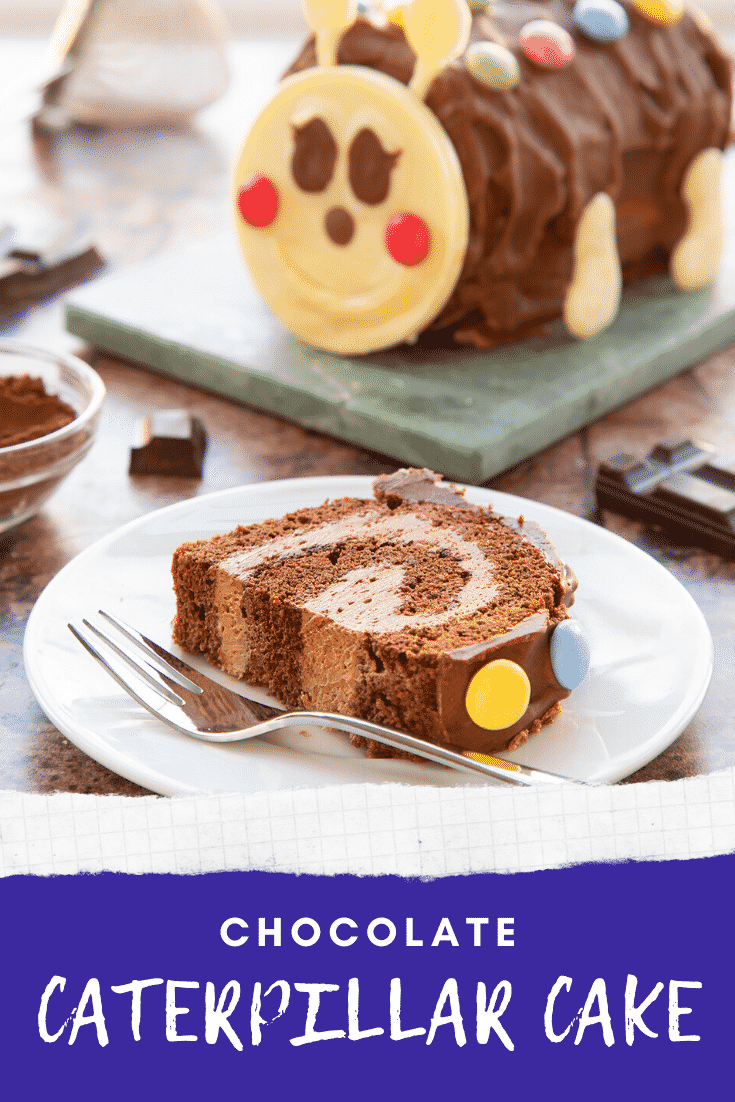 Where can I buy little piping bags?
You can usually find piping bags in your local supermarket. They're often hanging between shelves or at the end of the baking aisle.
The best piping bags for a job like this are ones without a seam. This is because you want to snip just the tiniest bit off the tip of the bag to allow you to pipe small details. I buy my seamless piping bags online.
Is this recipe suitable for vegetarians?
This recipe is totally suitable for vegetarians as it contains no meat, fish or poultry.
Double check all of your ingredients labels to make sure to check that they are suitable for vegetarians. Don't forget to also check anything extra you intend to serve the recipe with.
Is this recipe suitable for vegans?
This recipe isn't suitable for vegans as it contains eggs as a key ingredient in the sponge, = butter in the buttercream filling, milk chocolate and cream in the ganache coating, and white chocolate in the face/leg decorations.
If you wanted to have a go at making a vegan caterpillar cake recipe, the egg would be the trickiest part to replace as they do a lot of work in the recipe. Whipping them with the sugar is what gives the sponge structure and they're also the main source of fat. You could try using 3 tablespoons of aquafaba (the liquid that comes in cans of chickpeas) per egg, but I'm not sure how well that would work.
Feel free to experiment and I'll come back and update as soon as I've had a chance to test a vegan version.
In the meantime, if you want to have a go, you could use these replacements for the other elements:
Butter: Switch to a vegan butter or baking block. Aim to use one with a fat content of around 80% as this is similar to butter and so you'll get similar results. I like Flora Plant Butter for this but any brand will do as long as the fat content is where it should be. Avoid lower fat spreads at they tend to have a lot of water in them, which will spoil your buttercream.
Double cream: Switch to a vegan cream. Elmlea do a plant-based double cream that I haven't tested in ganache yet but I suspect would work well.
Chocolate: Use any vegan chocolate that melts well. If you're struggling to find specifically vegan brands, you could just use a good dark chocolate as many of those are dairy free. Be sure to check the label to be sure.
Don't forget to double check all of your ingredients labels to make sure to check that they are suitable for vegans. You should also check anything extra you intend to serve the recipe with.
Is this caterpillar cake gluten-free?
This caterpillar cake is not gluten-free as it contains wheat-based self-raising flour.
I haven't tried swapping the flour for a gluten free version, but I always recommend using a good quality brand that will likely be a blend of different flours like rice or oat mixed with a binding agent like xanthan gum which really helps with the texture and, of course, a raising agent if its self-raising flour.
Although chocolate, cocoa etc shouldn't naturally contain gluten, some brands may contain traces, so it's really important to double check all of your ingredients labels to make sure to check that they are gluten-free. Don't forget to also check anything extra you intend to serve the recipe with.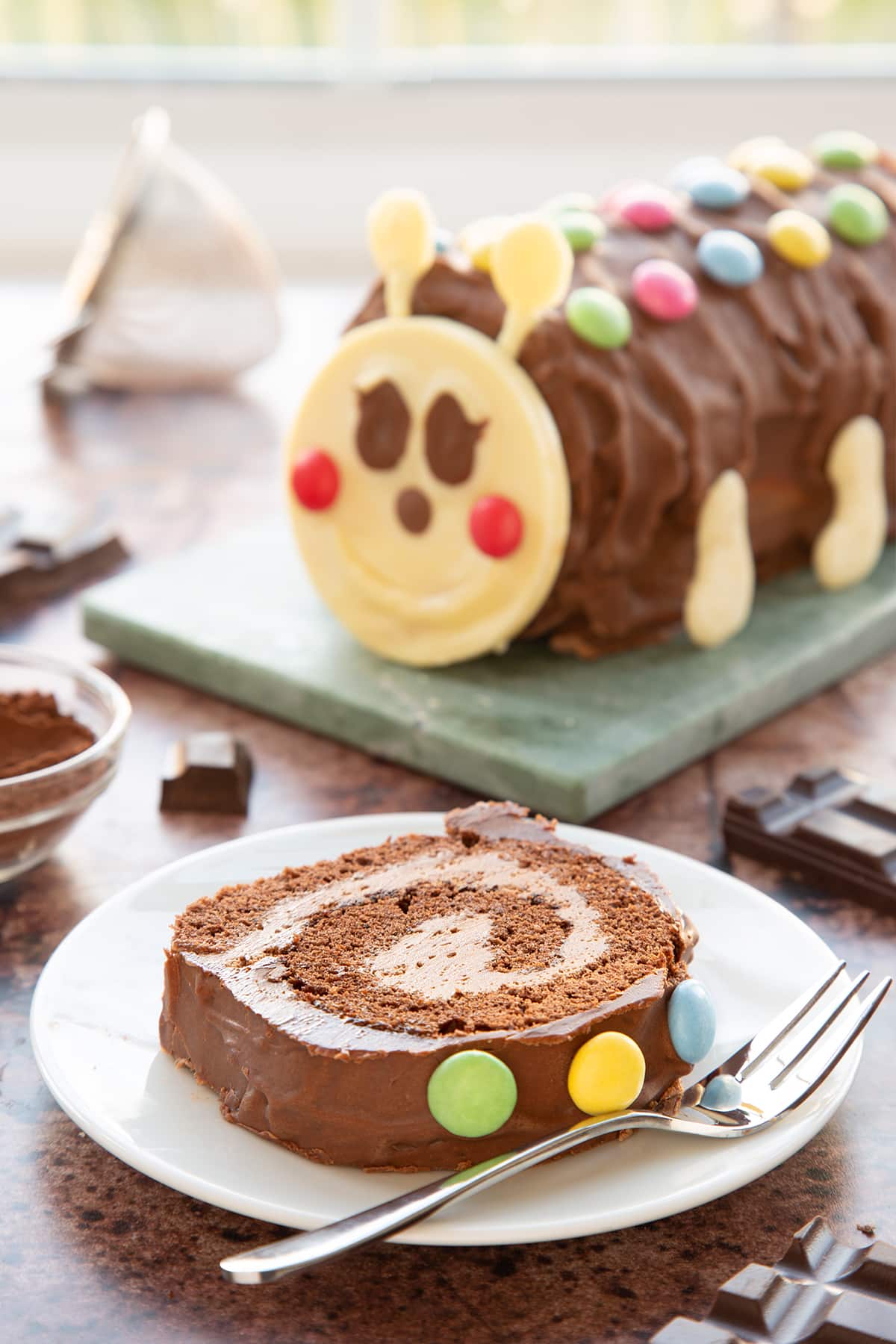 Is this caterpillar cake keto-friendly?
This recipe is high in sugar and so not suitable for a keto diet.
Is this caterpillar cake recipe healthy?
This is very much a celebration recipe, high in sugar and fat. It can be enjoyed on occasion as part of a healthy diet, rich in a variety of fruits and vegetables.
Is caterpillar cake safe to eat while pregnant?
There is nothing that should present a risk to pregnant people, provided the ingredients are fresh, have been stored correctly, and the recipe is prepared safely, hygienically and cooked properly.
Most dairy butter and milk purchase in the UK is pasteurised, but it's a good idea to check if you're unsure as pregnant people should not eat unpasteurised dairy. The NHS explains why here.
Advice regarding eggs can vary depending on where you live as production methods are different in different countries, so please check information local to you. In the UK at the time of writing (April 2021), The Advisory Committee on the Microbiological Safety of Food's advice is that eggs bearing the Red Lion mark of quality are safe for pregnant people to eat runny or even raw.
A Mummy Too does not offer medical advice. Please seek help from a medical professional if you need further information or have any concerns.
What goes well with caterpillar cake?
This recipe is a decadent treat all by itself, but you could serve with a dollop of vanilla ice cream, if you want to make the celebrations extra special.
Can I make this caterpillar cake recipe without buttercream?
You could fill the inside of your caterpillar with whipped cream instead of buttercream if you like. Check out Mary Berry's chocolate roulade for the filling recipe. B
ear in mind, though, that if the caterpillar cake is filled fresh cream, it will need to be kept in the refrigerator, where it will keep for up to 2 days, rather than the 5 days it will keep with a buttercream filling.
I haven't got white/dark/milk chocolate can I use just one kind?
In the buttercream, you can use milk chocolate or white chocolate instead of dark chocolate and it will still work. Just make sure the chocolate is cooled. I find dark chocolate works well because it gives the final buttercream a good chocolate flavour when balanced with the butter and icing sugar, but you can experiement.
In the ganache, you can use all dark chocolate or all milk chocolate if you prefer. I find the recommend mix allows just the right texture when set, so that it is not too firm, not too soft.
For the face and legs, you can be as creative as you like. Milk, dark or white chocolate will all do the job just be sure to let them set completely in the fridge before applying to the cake.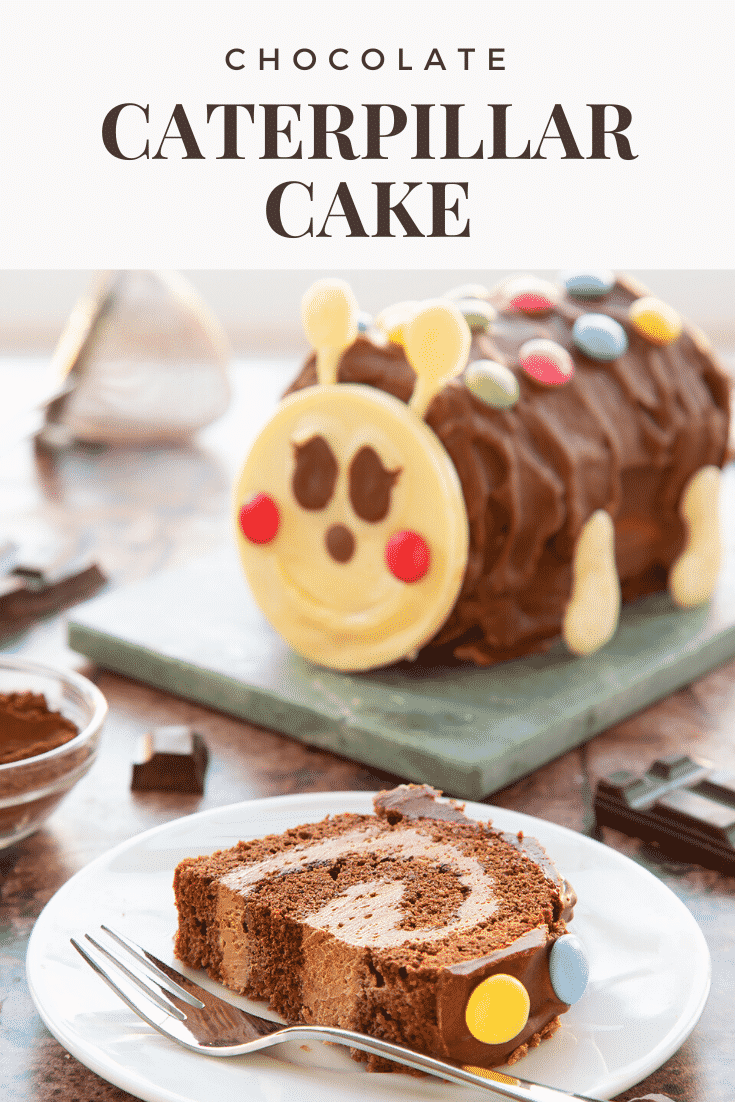 Can I add extra chocolate to this caterpillar cake recipe?
I wouldn't recommend adding more chocolate to the ganache or buttercream, but you could put extra chocolate on as decoration, if you like.
I put rows of three Smarties alongside the top of the cake, but you could decorate the sides too. Just make sure the ganache has thickened up a but not set, so that the Smarties can stick without sliding.
How should I store my caterpillar cake?
Keep any leftover caterpillar cake covered in a cool, shaded place or in the fridge. If storing in the fridge, I recommend getting out half an hour before you serve as it tastes better at room temperature.
How long will my caterpillar cake keep?
If properly stored in a sealed container in a cool, shaded place or in the fridge, your cake should keep for 3-5 days.
In the freezer, leftover slices will keep for up to 3 months.
Can I leave this cake out on the counter?
It's fine to have your caterpillar cake out on the counter to serve, but leftovers should be placed in a sealed container or in a cool, shaded place such as a cupboard or pantry.
Can I make a caterpillar cake ahead?
This recipe keeps well for a few days, so you could certainly make the whole thing ahead, ready to present as part of a celebration the next day.
If you wanted to split the work over two days, you could make the Swiss roll, fill with buttercream and then put the undecorated cake into a container to stay fresh until you're ready to decorate it with the ganache, Smarties and chocolate legs/face the next day.
You could also stop at the stage after you've covered with ganache and Smarties and chill overnight before adding the features in the morning, if you prefer.
Can I keep caterpillar cake in the refrigerator?
Yes, you can keep this cake in the fridge if you like. Make sure it's in a sealed container, and I recommend getting it out half an hour before you serve as it tastes better at room temperature.
Can I freeze caterpillar cake?
A decorated cake like this is always going to look best freshly made, so I wouldn't recommend freezing whole with the intention of thawing and presenting later. However, if you have leftovers, they freeze really well.
If you intend to freeze some of your caterpillar cake, make sure to get them into a sealed container and into the freezer on the day of making so they are kept at their best.
You can freeze your leftover caterpillar cake in one piece if you've got the space in your freezer or slice him up.
It's a good idea to layer a piece of parchment paper between the slices if you are stacking them so that they don't stick together. This also makes it easier to just get slices out as you need them. They will keep in the freezer for up to 3 months.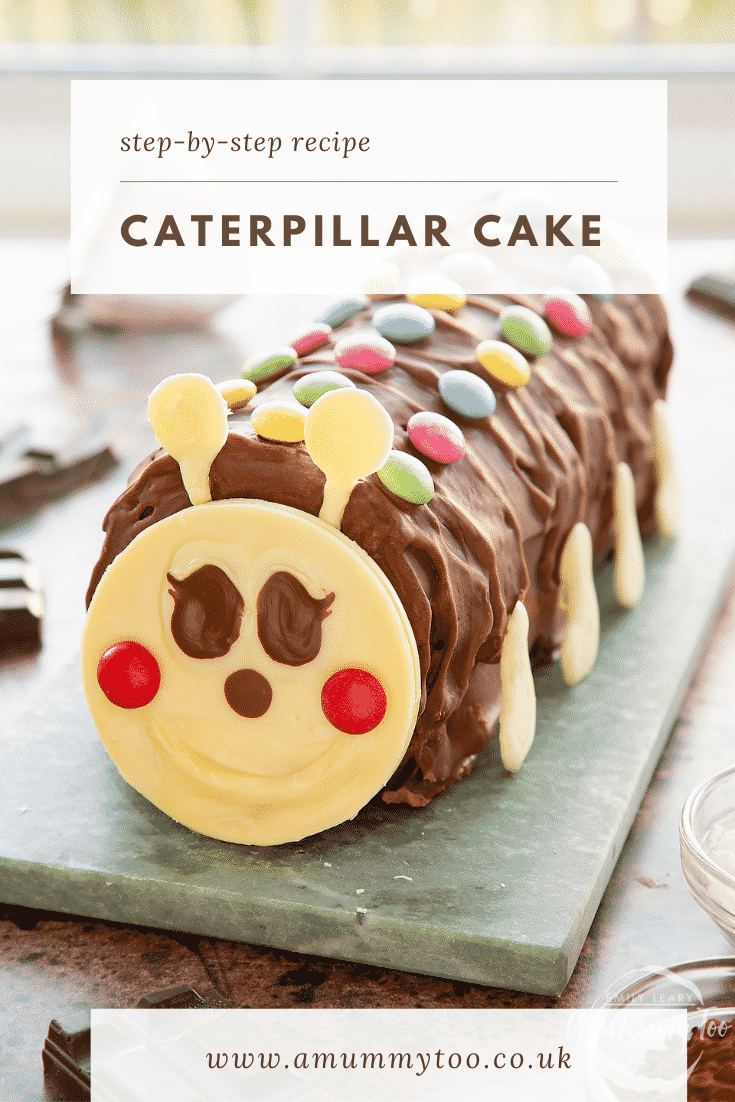 What is the best way to defrost caterpillar cake?
It's best to defrost any frozen leftovers from your caterpillar cake in their sealed container in the fridge overnight so they can thaw out slowly. If you're only defrosting some of the leftovers, transfer them to a fresh container in the fridge to thaw.
Do not refreeze any defrosted leftovers and eat without 24 hours.
If you're in a rush and just want a chocolate hit, you can actually microwave a slice from frozen for about 30-45 seconds to create a puddle of decadent chocolate putting. Scandalous.
Can I make this recipe in a different quantity?
If you want to make a smaller caterpillar cake, that should be possible in theory, although I haven't tested the idea.
Look for the recipe card below. You'll see the servings near the top left. To change this to the number you want to make just click on it and a little slider will pop up. You can move the slider up or down to get the amount you want to make.
All the ingredient quantities will update automatically for you so that everything is in the right ratios.
If, say, you reduce the number of servings to 4, you'll essentially have half the amount of sponge batter, so you'll need a correspondingly smaller Swiss roll tin. Making a smaller cake may also affect the baking time so keep a close eye on it to make sure you remove it as soon as it's set all the way across.
Under baking will cause it to collapse and over baking will make it impossible to roll.
Can I make this recipe in a normal cake tin?
This sponge recipe isn't really designed to be cooked in a normal cake tin. If you'd prefer to make a round cake, I'd recommend swapping the sponge recipe and method to something like this chocolate sponge.
You can still use the buttercream, ganache from this recipe, if you like. Obviously the resulting cake won't look like a caterpillar!
Can I make this caterpillar cake recipe in a stand mixer such as a KitchenAid or Kenwood Mixer?
It takes a couple of minutes with an electric whisk to get the eggs and sugar well whipped, pale and fluffy, so you could certainly use a stand mixer with balloon whisk attachment for this stage, if you like. When it comes to folding the flour and cocoa into the sponge, it's really important to do this gently by hand of you'll knock all the air back out of the mix.
You can make the whole buttercream recipe in a stand mixer with balloon whisk attachment. Be sure to start slow so that you don't end up in a cloud of icing sugar!
The ganache is really easily mixed with the melted chocolate in a matter of seconds, so you really don't need to use your stand mixer for this, but you can if you wish.
Can I make this caterpillar cake with a food processor?
No, the blades of a food processor will not whip the required air into the sponge or buttercream, so it is not a suitable piece of equipment for this recipe.
How can I make sure the chocolate sponge is perfectly cooked?
Your chocolate sponge should be perfectly done if you cook it for 8 minutes in a preheated oven 200C (180C fan). However, some ovens are a bit temperemental and can run a little hot or cold, so keep an eye on your spong from about 5 minutes until it looks set all the way across. When touched with your finger, it should feel just firm. If it still feels wet in the middle, it needs longer.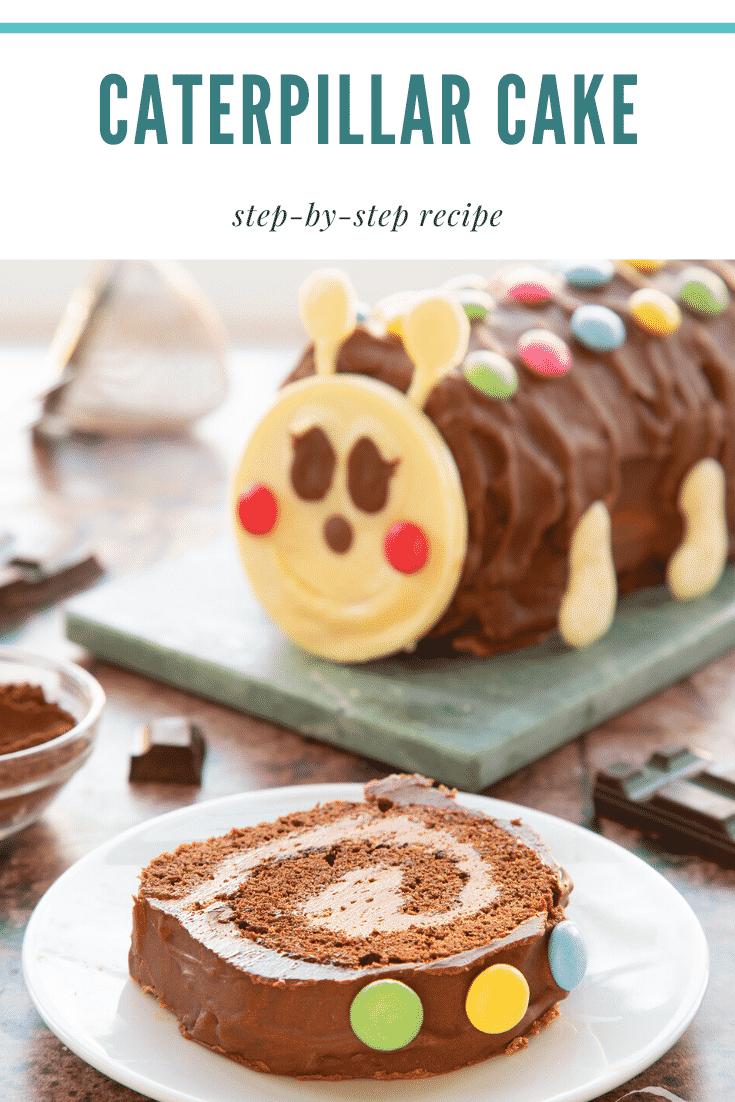 Why did my sponge come out really thin and dense?
A flat sponge is usually down to a loss of air, which can happen during prep or by leaving the mixture sitting for too long.
When you start to make your sponge, make sure to whip the eggs and sugar until they're really pale, thick and noticeably increased in volume. This takes about 2 minutes with an electric whisk on full speed.
Don't skip sifting the flour and cocoa. Cocoa has a tendency to clump and since you'll need to fold them in very gently with a silicon spatula, it will be very difficult to get rid of dense lumps once they're added to the batter.
Don't over mix the batter once the flour and cocoa are added. Just slide your silicone spatula down the side of the bowl to the bottom, lift and turn over. This will gently bring your mixture together in a few turns. As soon as you have an even chocolate shade, stop mixing.
Don't leave your batter sitting out as it will lose more air over time. Pour it gently into the lined tin, spread carefully, just enough to ease to the edges and level off and then get it straight into a preheated oven.
Why can't I roll my sponge? Why did my sponge crack when rolled?
The high egg content in the sponge gives it a lovely flexible texture that's perfect for rolling. Make sure you got all the quantities right and read the answer above regarding properly handling your batter.
Assuming quantities and methods were correct, it could be that you baked your sponge for too long. Remember, the recipe calls for just 8 minutes of baking to bring the sponge to a set state. It doesn't need to be as firm as, say, a cooked Victoria sponge.
Some ovens run too hot, so if that's the case with yours, 8 minutes might have proved too long. Get an oven thermometer so that you can see what your oven is doing during cooking.
The other essential part of the method to ensure you can roll your sponge is to do it first when the sponge it hot. It might seem weird to handle a hot cake as with standard sponge, it's really important to let it cool completely before disturbing, but not so with Swiss roll.
You want to train the sponge to hold a rolled up shape before it cools, so that once you unroll the cooled sponge and fill with buttercream, it rolls back up perfectly. Be sure to sit the sponge on baking paper dusted with cocoa and icing sugar and place a tea towel on top before rolling the paper, hot sponge and tea towel up together. You can prop a weight such as a mug behind the roll, if you wish to stop it unrolling during cooling.
Why did my ganache crack when I cut the cake?
I recommend using a sharp, serrated knife to cut your caterpillar cake.
If you find it's cracking, try running the knife under hot water for 30 seconds, then dry off and use the slice the cake. It should slide through the ganache with ease and give lovely clean edges.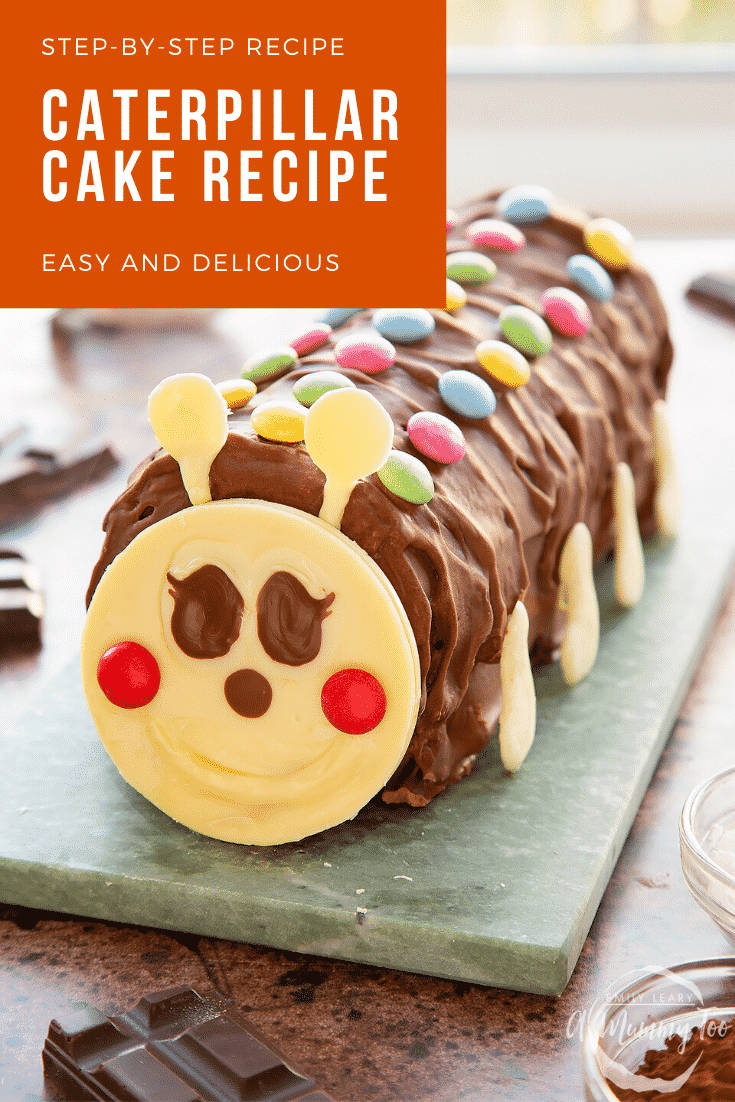 How can I add/change the flavours in this recipe?
You could play with the flavours in the ganache or buttercream by adding flavour extracts. Peppermint, coffee or orange would all work well.
You could also try decorating the cake with different types of chocolate or sweets. How about M&Ms or Minstrels? You could even use Mini Eggs at Easter!
Print this caterpillar cake recipe
Pin this caterpillar cake recipe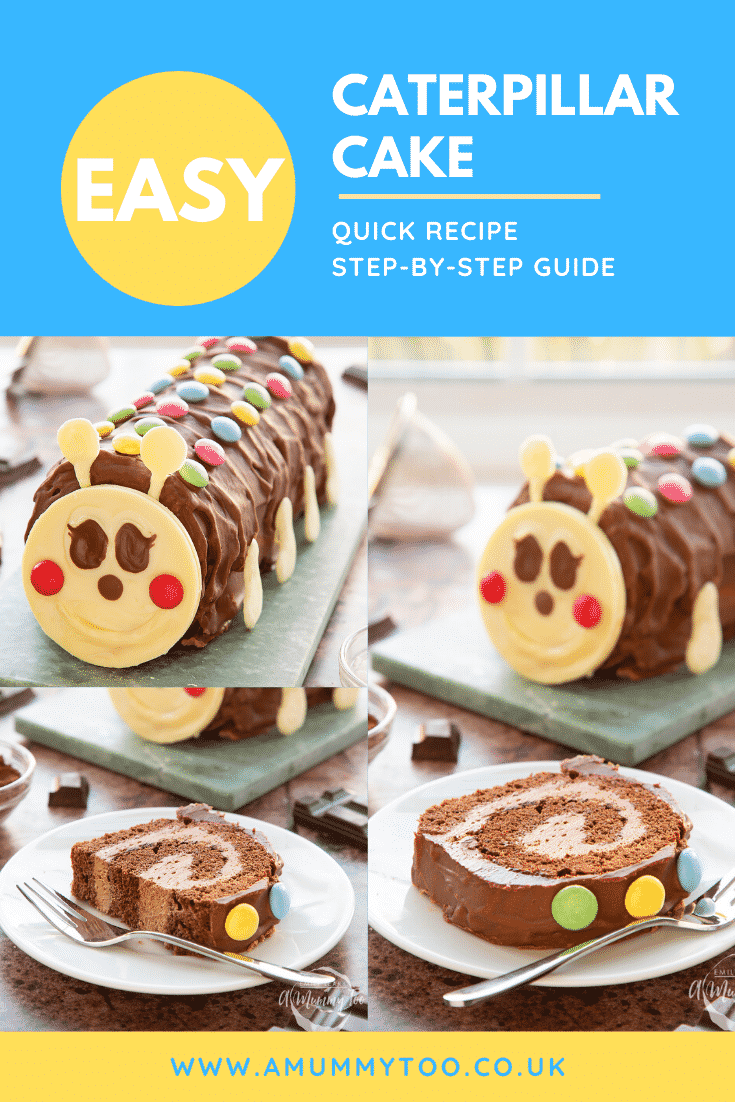 More celebration cakes to try
Get Your Kids to Eat Anything
My debut cookbook, Get Your Kids To Eat Anything is available now from all good bookshops!
It's so much more than a cookbook, it's a 5-Phase programme designed to take you through a meaningful, simple and sustainable journey to end fussy eating.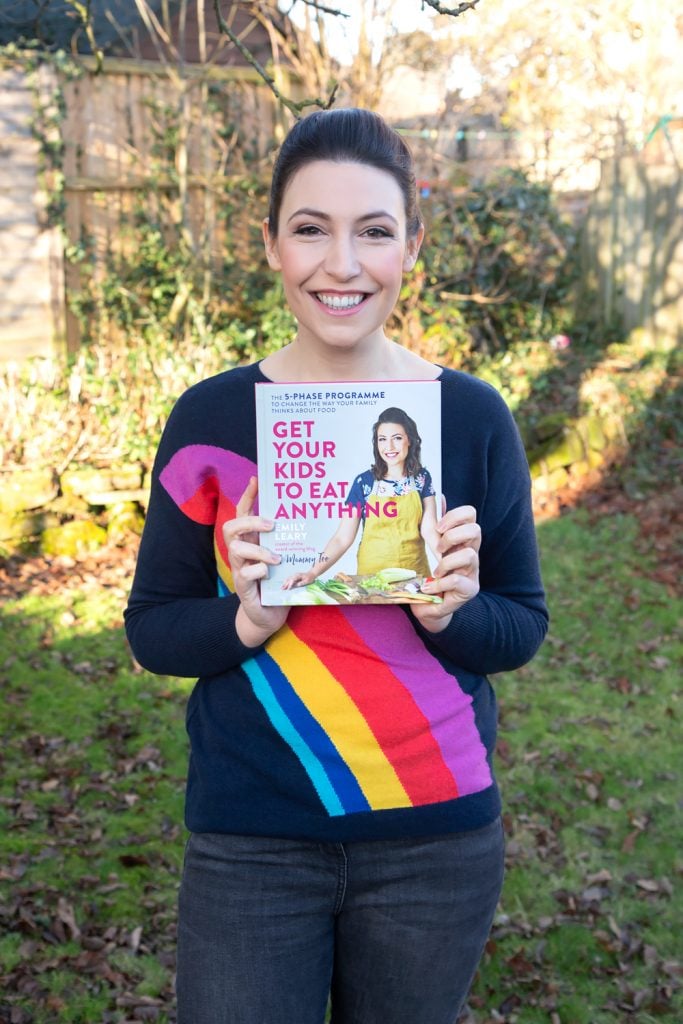 Since its release in March 2019, Get Your Kids To Eat Anything has been changing mealtimes in households across the country and has become an Amazon #1 best-seller.