What could be better than toffee apples at this time of year? Why toffee apple crumble of course!
The filling is made with crisp Bramley apples and sweet dates in an indulgent caramel. Bramley apples are perfect for this recipe because they have a higher malic acid content and lower sugar levels, so produce a stronger tangier tasting apple after cooking, with a melt in the mouth moist texture. No chewiness here, just YUM!
The dates act like little toffee pieces in the gorgeous filling, and then the whole thing is topped with a warm, ultra-crunchy crumble topping – the trick is baking the topping separately before sprinkling it over the fruit.
Here's the full recipe.
Toffee apple crumble
Toffee apple crumble is as good as it sounds. Tart apples, creamy sweet toffee sauce and a perfectly crunchy crumble topping.
Print
Ingredients
For the filling:
225

ml

7.5 fl oz double cream

140

g

5 oz salted butter (plus a little to grease)

140

g

5 oz dark soft brown sugar

5

Bramley apples

Handful datesFor the topping:

300

g

10.5 oz plain flour

125

g

4.5 oz salted butter, cold and cubed

100

g

3.5 oz dark soft brown sugar

1

tsp

cinnamon
Instructions
To make the filling:
Put the cream, butter and sugar in a non-stick pan over a medium heat

Stir until the butter has melted, then continue to heat until you have a thickness resembling thick gravy. Pour into a heatproof jug to cool.

Peel, core and slice the apples into sixteenths.

Place in the pan you were using for the sauce and pour in roughly 200ml and stir through.

Cook the apples over a medium heat, stirring regularly until just soft. If they're released a lot of liquid, drain most of it off and then tip the apples into a greased oven dish.

Roughly chop the dates into halves or thirds and sprinkle over the apples.

Pour over the remaining toffee sauce and set aside.Make the topping:

Preheat the oven to 180C fan.

Rub the flour and butter together.

Stir in the sugar and cinnamon then spread the crumble on a non stick tray (don't press down) and back for 8 minutes.

Then remove from the oven, mix well with a fork and return to the oven for another five minutes.

Loosen the crumble a final time with a fork, then sprinkle all over your apple filling - spread it out gently with a fork - don't press down!

Place the whole crumble in the oven for 20 minutes until lightly browned and bubbling.

Allow to cool for a few minutes before serving - it will be HOT!
Fancy trying it? Let me know if you do! Over the coming months, I'll be sharing more recipes using the iconic Bramley apple. It's been a staple in many a British kitchen for over 200 years, and I am looking forward to showing you how it works just as well in savoury dishes as it does in desserts.
Check out the #LoveBramley hashtag, and follow Bramley Apples on Facebook and Instagram for more.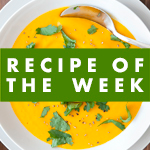 This is a commissioned post for Bramley Apples